Man And His FUTO Girlfriend Dies After Their Toyota Venza Rammed Into A Parked Trailer (graphic)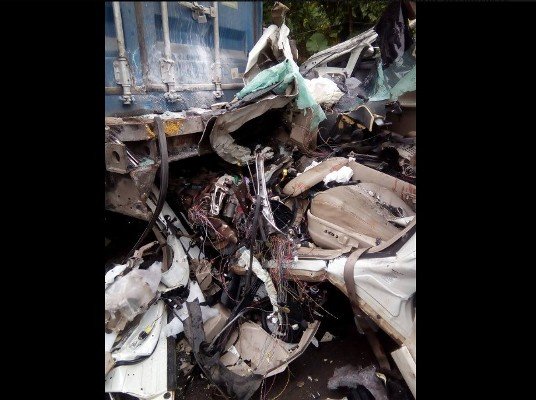 This ugly incidence took place yesterday.
Warning: This article includes graphic images some readers may find disturbing
They were both traveling to Asaba from Owerri in a Toyota Venza that was being driven by the man.
The man was on speed and lost control of the vehicle and ended up ramming into the trailer from behind. The trailer was stationary and packed by the road when the Venza ran into it.
The impact of the accident was much which ended up taking their lives.
4 Safety Tips For Driving Around Trucks
A close friend of the guy revealed how he was meant to be part of that journey but alighted from the car after he received a call that made him cancel the journey.
The girl was a final student of Information Management Technology in Federal University of Technology, Owerri, FUTO, Imo State.  She's meant to write her final paper as an undergraduate later this week.
The car was reduced to shreds.
May their soul rest in peace.