Mercedes-Benz Engulfed By Flames In South Africa,I Heard Them Speak Yoruba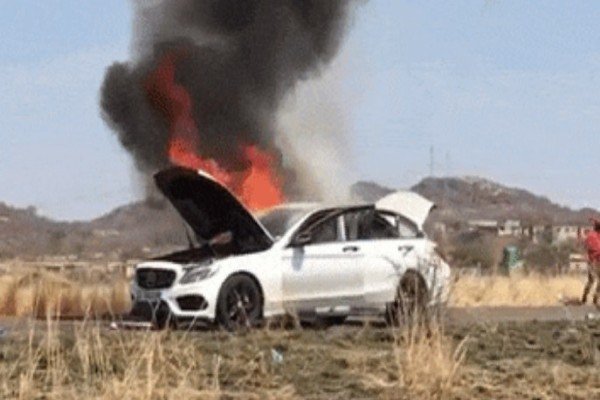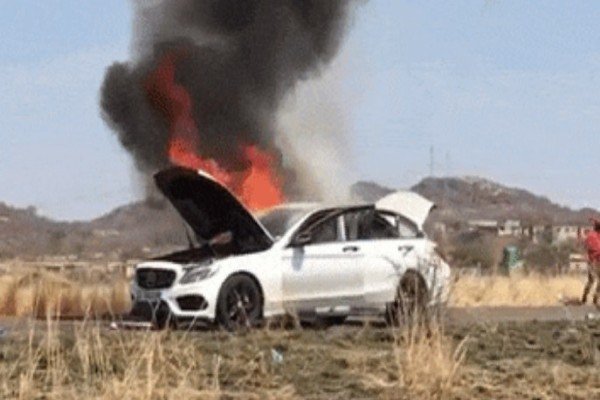 The initial cause of the fire (which may likely be an electrical or mechanical problems) has not been determined.
But it's obvious from the video below that the reason why the car was completely engulfed by the flames was their attempt quench the fire using water instead of a fire extinguisher.
Someone at the scene said :
"This guys were driving in front of me. I saw the smoke underneath the car and I stopped them. When we investigated underneath the car and you could smell wires burning and the car didn't want to switch off. The mistake the guys did is to try to take the fire out with water. A lot of cars burn in South Africa. Including Audi and Ford Kuga."
The flames were mostly underneath the car, which means a fire extinguisher might have quenched the flames.
Someone brought a good idea to remove the battery terminals while others were busy pouring probably a sand on the fire.
The mistake they made (presuming they didn't a fire extinguisher and with the fire looking as if subdued ) was their attempt to try to take the fire out with water.
This is one of the reasons why you should always have a fire extinguisher in your car.
Since most car fires start small and are generally caused by electrical or mechanical problems, using the right fire extinguisher will help reduce the amount of damages to the car.
So if you don't have a fire extinguisher, buy one today or you get one from our Autojosh Auto Shop.