Mercedes-Benz's Hyperscreen Isn't A New Concept As It Dates Back To The 90s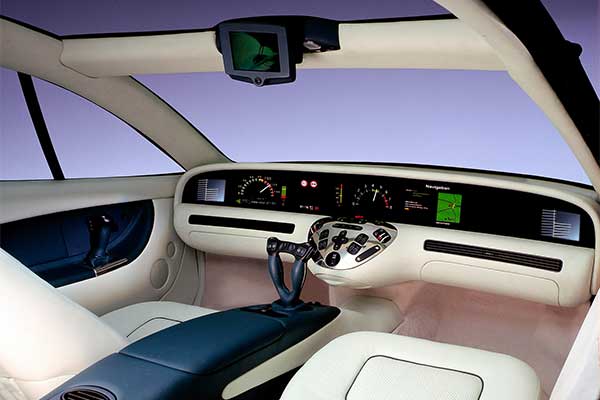 Mercedes' new Hyperscreen is a pretty impressive piece of kit, but it can, to some extent, be traced back to the 1996 Mercedes-Benz F 200 Imagination concept car.
The concept car was first shown at the Paris Motor Show in October 1996 and has a number of features that may have sounded like a Willy Wonka-esque world of pure imagination when it was released, but can be found today in many cars.
Built as a preview of the Mercedes-Benz CL-Class that came three years later, the F200 packed some pretty advanced technology for the time. We're talking active headlights, drive by wire, side airbags, voice activation, camera-based mirrors, and a fully digital dash. That last item was finally realized in the 2022 EQS, where it is referred to as the Hyperscreen.
The F200 also had Lamborghini styled doors that made it stood out in the crowd. One element that we haven't seen in production just yet is the joystick-style steering. Steering the car is done using two joysticks, one mounted in the door's armrest and the other in the centre console. You'll notice that the centre controller itself has two conjoined joysticks. This is so the car can be driven from either of the front seats, as the designers decided to install a joystick in both of the front doors.
In addition, the F200 was fitted with internet connectivity which was a huge deal back in the 90s. Features like online banking and hotel reservations were tested.
Today, the F 200 can be seen at the Mercedes-Benz Museum in the "Fascination of Technology".