All New 2018 Audi A7 Sportback (Details, Photos And Price)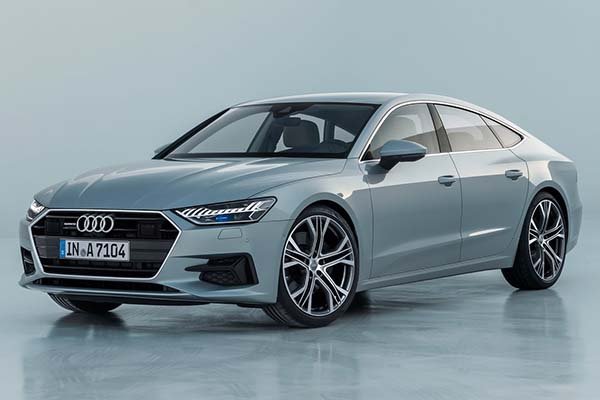 The 2018 Audi A7 Sportback represents the new Audi design language and delivers on the design promise made by the prologue studies. The four-door coupe sets standards in the luxury class when it comes to progressiveness. It embodies a new style of Gran Turismo, with dynamic lines, systematic digitalization, a sporty driving experience and a versatile space concept.
The headlight is a subject of digitalization. You can get the one that has 12 adjacent lighting with the binary digits 0 and 1… or the top version which has the HD Matrix LED headlights with Audi laser light. When the doors are locked and unlocked, fast-moving light animations play in the rear lights and in the headlights.
The interior of the new Audi A7 Sportback dazzles with its futuristic lounge atmosphere. Its reduced, clean design language is based in a one-of-a-kind balance of tension and coolness. The 10.1-inch upper display is tilted toward the driver. With its black panel optics and framed in a graphite gray aluminum clasp, it almost disappears into the dashboard when switched off.
See Related Post The All New 2018 Audi A8 Is Here. It Comes With Foot Massaging Feature (Photos)
More features:
3.0 V6 TFSI engine
340 hp and 368.8 lb-ft
0 to 100 km/h in 5.3 seconds and has a top speed of 250 km/h
Optional Audi virtual cockpit with a 12.3-inch display
A wide gear knob that allow drivers to rest their wrist
Voice control
Individual user profile settings for up to 7 drivers
Optional Bang & Olufsen Advanced Sound System which delivers fascinating 3D sound
Audi AI remote parking pilot will be integrated after launch
Depending on the equipment level, there can be as many as five radar sensors, five cameras, 12 ultrasonic sensors and a laser scanner.
Optional dynamic-all-wheel steering
Air suspension
Additional six- and four-cylinder engines, both gasoline and diesel, will follow shortly after the start of production.
The estimated starting price is N42 million after adding shipping cost and import duty.
Is it your type of car? Tell us in the comment section.
Don't forget to like, rate and share. Also follow @AutoJoshNG on Facebook, Twitter and Instagram.
See Related Post The All New 2018 Audi A8 Is Here. It Comes With Foot Massaging Feature (Photos)