New Pope Mobile Goes Electric As Fisker Builds One Based On The Upcoming Ocean Crossover SUV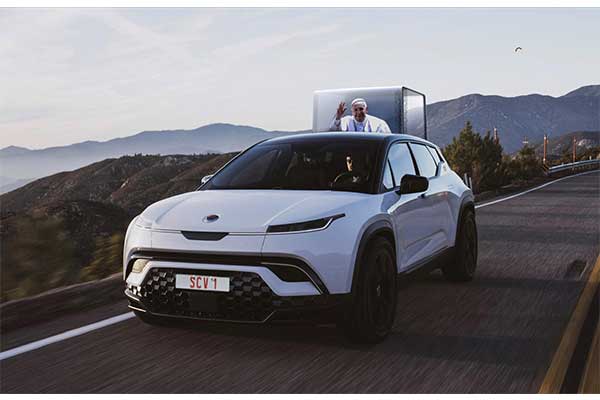 Pope Francis will travel in an electric vehicle for the 1st time as Fisker will build a special Pope Mobile based on the Ocean crossover. The Pope famed for his humble cars will use the EV to send an environmental message. This decision was made by Fisker's co-founders, Henrik Fisker and Dr Geeta Gupta-Fisker who both paid a visit to the Pope at the Vatican.
A vision for this custom Ocean model was presented to a private audience at Vatican City. "I got inspired reading that Pope Francis is very considerate about the environment and the impact of climate change for future generations," said Henrik Fisker. "The interior of the Fisker Ocean papal transport will contain a variety of sustainable materials, including carpets made from recycled plastic bottles from the ocean." Fisker's plan is to put the Ocean into production on November 17, 2022. With the plan to deliver the Pope's example next year, His Holiness is getting one of the early examples of the electric crossover to leave the factory.
The design presented by the Fiskers shows a large, modern, all-glass cupola so that those gathered to see the Pope get the best possible view. With no exhaust emissions, it will also be better for those in attendance. The Ocean will feature an 80-kilowatt-hour battery offering an estimated 300 miles of range, and the high-performance version will be able to reach 60 miles per hour in 2.9 seconds.