Nissan Skyline Gets The Nismo Treatment With A 420 Hp Twin-Turbo V6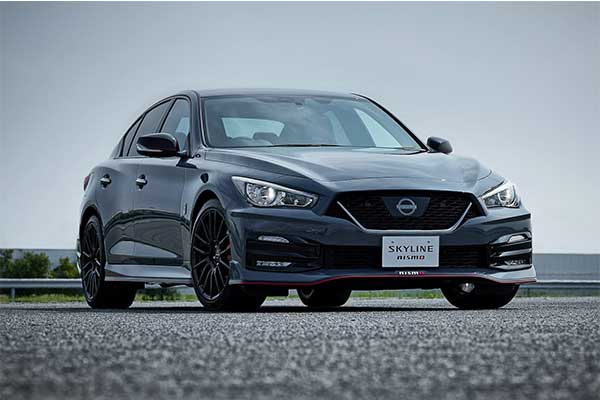 In Japan, Nissan has pulled the curtain on the new Skyline Nismo. Those who only know the Nissan Skyline from the fierce GT-Rs will be shocked by this new Nissan Skyline Nismo. It is 'only' 420 hp strong.
The Nissan GT-R, which will be sixteen years old this year, is the replacement for the fierce GT-R versions of the Skyline that Nissan sold. The Nissan Skyline itself is not at all such a violent device as the GT-Rs known to the masses in Europe, mainly thanks to the Fast & Furious film series. For example, the R34 generation of the Skyline was not only available as a fierce GT-R but also as a four-door sedan and as a non-GT-R coupe with milder six-in-line petrol engines. The current thirteenth-generation Nissan Skyline has been running since 2014.
The Nissan Skyline was initially available with 211 hp petrol engines from Mercedes-Benz and later became available as a 364 hp Hybrid. Sportier positioned are the non-hybrid variants with the 3.5 V6 with two turbos. The strongest of these was the 400R which kicked it up to 405 hp and 475 Nm. The new Nismo version is based on this but is even more potent with 420 hp and 550 Nm.
Of course, 420 hp is also considerably less than the Nissan GT-R produces, although you should certainly be able to throw the Skyline Nismo completely sideways. The 420 hp goes straight to the rear wheels via a seven-speed automatic transmission. The Nismo variant is packed with extras on the outside that should give the sedan a slightly thicker appearance. In addition, it has 2 cm wider rear tires, it stands on 19-inch light metal from Enkei and the chassis has been overhauled by Nismo. The braking system has also been tightened up and, according to Nissan, it even attached the front and rear windows with stronger adhesive to increase the car's rigidity. More adjustments? Certainly. For example, both the radiator and the oil cooler have been specially developed for the Nismo version. Nissan is only going to produce a hundred Nismo Skylines, so it promises to be quite a rare sight.