Evolution Of Nissan Xterra SUV From 2000 To 2015
Nissan Xterra SUV is not an SUV Nigerians love so much. You'll see them plying Nigerian roads, but not as much as other Japanese SUVs. This could be as a result of its poor resale value, indecent fuel economy and the roaring noise that comes from the engine when you abruptly accelerate.
One of the very good side of this SUV is that it is very strong when it comes to its body and engine. It is also fit to handle difficult terrains like when stuck in mud or a sandy road. This SUV can comfortably carry weights that its closest competitors will shy away from. It's also a cheap SUV you can buy below N2 million. On a good day, we will write a comprehensive review on the Xterra; the first generation precisely.
The Nissan Xterra is front-engine two-wheel or four-wheel drive compact SUV manufactured by Nissan Motors from 2000 to 2015. It spanned over two generations before the production ended.
Below are the two generations of the Nissan Xterra produced from 2000 to 2015.
First Generation (2000 – 2004)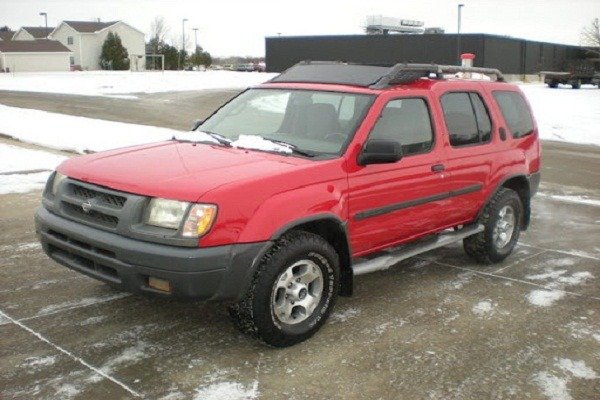 The first Nissan Xterra ever produced was in the year 2000. During the first two years of this generation, only two trims were offered – the XE and SE trims.  This Nissan Xterra comes with a roof rack, side step-rails, sunroof, and carpeted floor mats. The Xterra were mostly powered by a 3.3 liter VG33E V6 engine which produces 170 horsepower. It maintained rectangular headlights until the year 2002 when it changed to circular headlights.
The faclifted and revised 2002 model came with different dashboard, center console, larger glove compartment and foot-operated pedal parking brake.
Second Generation (2005 – 2015)
The second generation Nissan Xterra came with a new body style that looks more masculine and is larger in all dimensions than the first generation Xterra. The standard engine was upgraded to a 4.0 liter VQ40DE variable valve timing V6 engine that produces 261 horsepower. It also came with a rear differential locker for off-roading.
After this second generation 2015 model, the production of the Nissan Xterra was discontinued due to poor fuel economy and declining sales.
What do you have to say about the Nissan Xterra?