NURTW Boss MC Oluomo Reportely Gifts BBNaija Winner Laycon, N2.5Million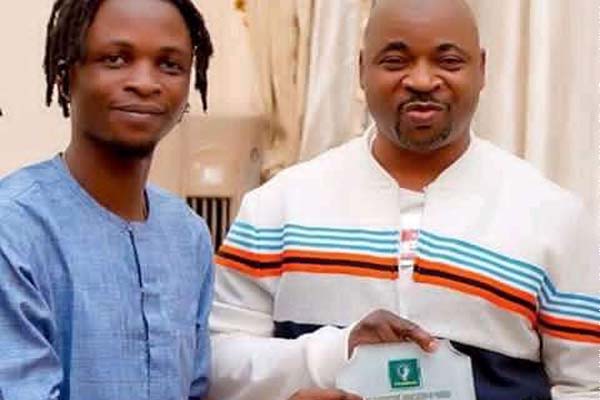 Winner of the 2020 BBNaija Lockdown season, Laycon, is still going around to appreciate all those who stood by him and saw him emerge as the winner of the reality show.
The rapper was a guest of the Nigerian Union of Road Transport Workers (NURTW) Lagos chapter boss, MC Oluomo, in Oshodi
The NURTW boss was said to have given Laycon a cash gift of N2.5 million.
The Nigerian Union of Road Transport Workers (NURTW) Lagos chapter boss, Musiliu Akinsanya, who is popularly known as MC Oluomo played host to the winner of the 2020 BBNaija reality show Olamilekan Agbeleshe, Laycon, in his Oshodi home.
The reality show star was in the office of MC Musiliu on Thursday, October 7, and it was reported the road transporters' boss gave him a cash gift of N2.5 million only.
His caption reads:
It was a merry moment on Thursdays, Oct. 7, 2020, as Alhaji Musiliu Akinsanya hosted the BBN lockdown winner -Laycon- and a team of youths.
The evening was marked with pump, funfair and an array of goodwill messages for and from both icons (Laycon and MC Oluomo).
As the visitation winded down, Hon. Musa Babatunde Akanni (MAKA) who was the brain behind the evening asked Laycon and other youths present to join him in presenting an award of excellence to the state chairman of transport workers Alhaji Musiliu Ayinde Akinsanya (MC Oluomo) for his outstanding support and contributions towards the development of the youths in Lagos State.