One-Off Custom Bugatti Divo "Lady Bug" Took Almost 2 Years To Build (Photos)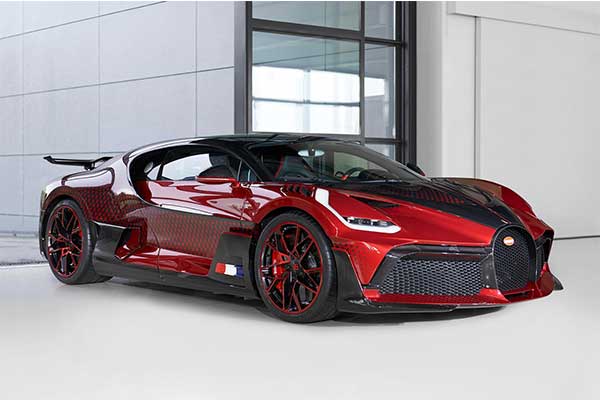 After the premiere of the Divo at Pebble Beach in 2018, Bugatti was approached by a customer who wanted an even more exclusive unit, with a very complicated paint job for his personal collection. The result is a one-off special called the Bugatti Divo 'Lady Bug' that took almost 2 years to make. This particular custom Divo Lady Bug really stands out from the crowd.
The Divo Lady Bug has a geometric-dynamic algorithmic fading pattern and also new colours were also created. These colours called Customer Special Red and Graphite are metallic colours and look astonishing on the body of the car. The design itself is just as gorgeous and is made up of approximately 1,600 diamonds. The process began with computer modelling and numerous test prints of vinyl being applied to a test car. The work turned out to be an absolute nightmare, and at one point, they almost gave up on the project. In a statement, Jorg Grumer, Head of Color & Trim at Bugatti Design said. "after numerous failed ideas and attempts to apply the diamonds, we were close to giving up and saying: 'We cannot meet the customer's request.'"
Furthermore, after one final rehearsal, using another test vehicle, they finally applied the pattern to the Divo. Subsequently, employees checked every diamond over several days to make sure that everything is perfect, and the car was then sanded, smoothed, checked, retouched and then re-sanded again.
An unnamed US customer has now taken delivery of his unique Lady Bug. Nobody knows the cost of this custom job but for a 2 year project, it will definitely cost a lot.