Over 30 Vehicles Burnt After Multiple Accident On Lagos-Ibadan Expressway (PHOTOS)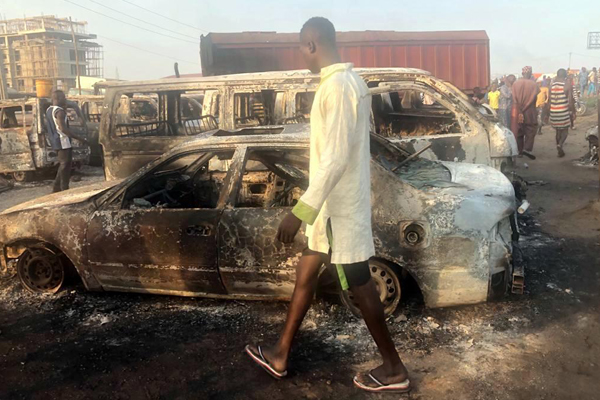 At least 30 vehicles were burnt in a multiple accident on the Lagos-Ibadan Expressway early Saturday morning.
The inferno occurred at midnight when a tanker lost control, fell and exploded in the middle of the road.
The incident happened just after the Long Bridge where there is both a car park and car sales stand.
Many vehicles were razed in the inferno.
Motorists on the Lagos-Ibadan expressway are locked in a gridlock following the tanker accident.
Officials of the Federal Road Safety Corps are on the ground trying to evacuate the totally burnt tanker blocking the road.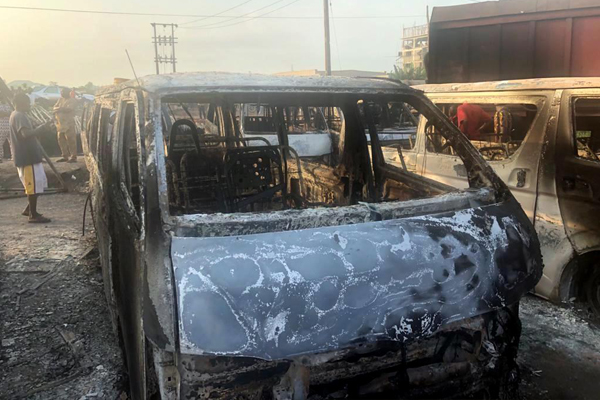 The Kara long bridge at the Lagos end of the Lagos-Ibadan expressway has become notorious for similar occurrence.
Recall that in June, a similar explosion occurred at the Kara Bridge.
The incident happened after midnight, many vehicles were on the bridge because of the curfew imposed to check the spread of coronavirus.
The explosion happened after an articulated truck laden with 33,000litres of premium motor spirit crashed into another articulated truck while driving inward the Lagos Ibadan expressway, resulting in the inferno.
Firefighters later arrived the scene of the incident at 2am.