The Moment LBSL Buses At Oyingbo Bus Terminal Went Up In Flames (VIDEO)
Earlier today, Oyingbo bus terminal went up on fire. In a viral video, buses in the fleet of the Lagos Bus Services Limited (LBSL) were seen going up in flames.
This is coming after soldiers reportedly fired shots at peaceful #EndSARS protesters yesterday night at Lekki toll gate.
The LBSL buses are a set of high-capacity buses that operate in Lagos metropolis. The buses are operated by the Lagos Bus Services Limited (LBSL).
The Lagos Bus Services Limited (LBSL) is a company that was set up by the Akinwumi Ambode administration.  The company was incorporated on 1 August 2016 as a transport asset acquisition, operations, and advisory services company.
VIDEO
President Mohammadu Buhari formally inaugurated the LBSL bus operations on April 24, 2019.
Last night, the Lekki-Ikoyi Link Bridge toll gate was set on fire.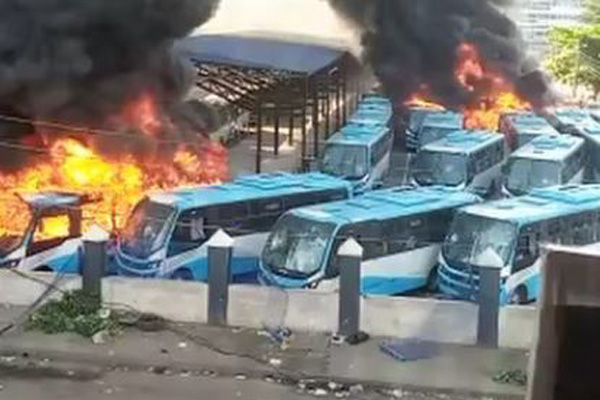 All the cubicles of the toll gate were burning, according to video clips made available online Tuesday night.
This followed the imposition of curfew and the drafting of the armed policemen and soldiers at the flash points of protests.
Watch the video of the burning bridge below as shared online.
Although the governor rescheduled the effective time for the curfew to 9pm, armed soldiers and policemen stormed the Lekki Toll Plaza, on Ozumba Mbadiwe, just after dawn. Lekki-Ikoyi Link Bridge Toll Gate
The Nigerian army was reported to have shot at the Protesters who gathered at the Lekki toll gate in Lagos.