Would You Buy This Motorcycle For N340million?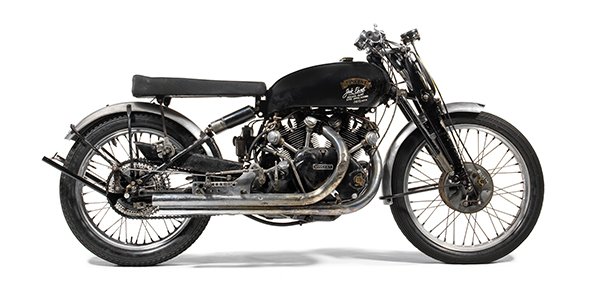 Would you be willing to dole out a whooping N340m for this vintage motorbike?
Mind you, for that amount, the opportunity cost would be owning two fully-detached duplexes in Lekki.
Well, someone recently paid  $929,000 ( approximately N340m) for this classic bike at an auction in Las Vegas.
The motorbike in question – a Vincent Black Lightening brand – is from a batch produced in 1951. It is one out of 30 that was made.
Perhaps, part of the reasons why "the Vincent" is such a collector's delight is the rich history behind this model.
The Vincent Black Lightening was designed based on another motorbike brand  – the legendary "Black Shadow".
The Black Shadow was reputed as the world's first super-bike. The Shadow became very popular after it outran the fastest car at the time – a Jaguar XJ120.  At 122 mph, it thus became the fastest thing on wheels.
However, the Black Lightning was a technical improvement on the Black shadow.  it was built with a more powerful engine (up from 55 hp to 70). But is the Vincent Black Lightening the most expensive motorbike ever made?
Well, it has the highest price ever paid for a motorcycle at an auction. However, some would argue that the Harley-Davidson FLH that Peter Fonda rode in Easy Rider and which was auctioned in October 2014 for $836, 337 is the most expensive.
It is said that the $836, 337 paid for that Harley-Davidson is equivalent to $1.18million at today's rate.