Photos Of The Day : Mike Tyson With Rolls-Royce Silver Spur In 1987 And Rolls-Royce Cullinan In 2021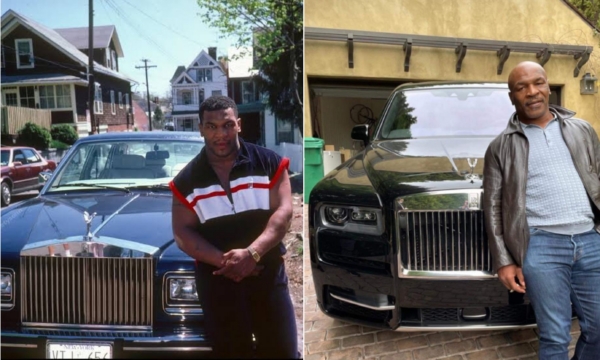 Photos Of The Day : Iron Mike Tyson with his Rolls-Royce Silver Spur in 1987 and his latest ride, a Rolls-Royce Cullinan, in 2021.
In his prime, American boxing legend Mike Tyson received over $30 million for several of his fights and over $300 million during his career.
Just like any well-paid sports star in the 90s and even today, Iron Mike Tyson spent millions on luxury and expensive rides from brands Cadillac, Rolls-Royce and Bentley.
Today, Mike Tyson still owns some of the most expensive luxury cars on the market, and the former boxer recently shared a picture of himself posing with his Rolls-Royce Cullinan SUV.
He captioned the post with :
"From the Rolls Royce to the gutter is just one step"
During his prime, Tyson's garage boast several luxury cars, including Cadillac Seville, Rolls-Royce Silver Spur ( first picture above), Rolls-Royce Corniche, Rolls-Royce Stretch Limousine and Mercedes-Benz 500 SL.
His garage also housed Ferrari F50, Ferrari 456 GT Spyder, Aston-Martin Lagonda, Lamborghini Diablo VT Roadster and a 1997 Bentley Continental T. Some of these luxury cars were sold when he went bankrupt.
Also See: Buy and sell cars faster on Carmart NG