Refreshed 2023 Kia Telluride Unveiled With New Tech And Rugged Looks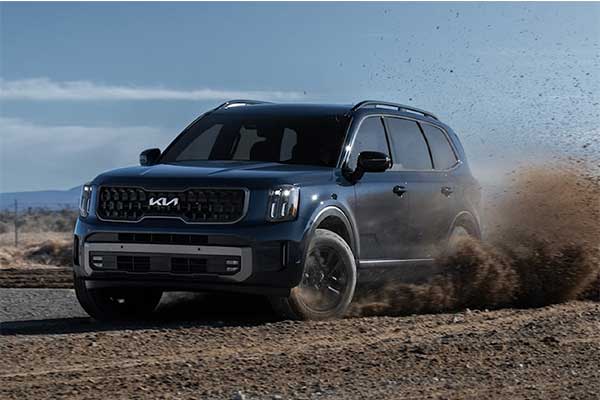 Kia's medium-sized SUV and 2020 World Car Of The Year Telluride has undergone a 2023 refresh with new tech, rugged looks, improved towing capabilities and more offroad worthy.
The handsome styling remains, but has been uplifted by several appealing enhancements. A new front bumper design, LED headlights and restyled Tiger Nose grille lend the SUV a more rugged look. Most of the aesthetic changes have taken place at the rear, where you'll find stylish new taillamps. The shape remains unchanged, but the cluster design looks far more contemporary than before.
Inside of the updated Telluride is where things get interesting. A new 12.3-inch touchscreen with navigation – up from 10.3 inches – adorns the dash, now with Wi-Fi hotspot connectivity and over-the-air updates. There's a larger head-up display, as well, growing from 8.5 inches in the previous to 10.0 inches, now offering more features. Buyers will additionally be able to opt for a full display digital mirror that can connect to HomeLink. A new power liftgate with an "Auto Close" function is also present. Owners will also be able to turn their smartphone or smartwatch into a Digital Key to lock and unlock the vehicle through Kia Connect.
Kia has also announced new X-Line and X-Pro grades that add some extra off-road capability to the Telluride. The X-Line is more of a styling pack, though it adds handy features like roof rails, 10 millimetres of extra ground clearance, and a Tow mode that includes sway control and also adjusts the transmission's shift program. It also adds 20-inch wheels.
The X-Pro is a bit more serious, bringing the same features of the X-Line, though swapping in 18-inch wheels with Continental all-terrain tires, plus 5,500 pounds of towing capacity instead of the 5,000 pounds of other grades. Tellurides are also available with self-levelling rear suspension.
Under the hood, the Telluride remains unchanged, retaining the 3.8-litre V6, which sends 291 horsepower/262 lb-ft of torque to the wheels via an eight-speed automatic gearbox.