Facelift BMW X7 Revealed With More Power And Controversial Headlights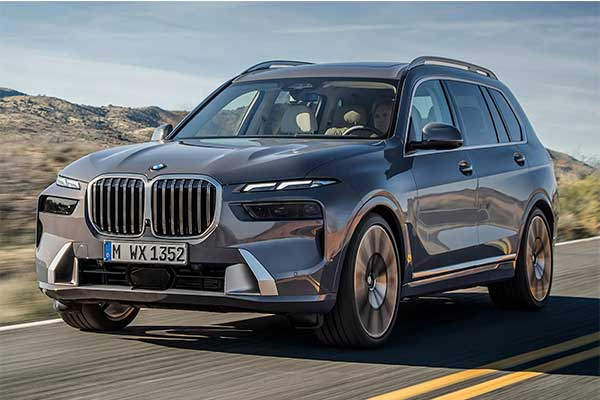 BMW has introduced the facelifted full-size luxury X7 SUV for the 2023 model year with more capabilities and of course, the controversial headlights which we will be seeing again in the next 7-Series and i7 EV.
Besides the looks, the latest X7 benefits from a bump up in power and the brand's latest infotainment interface running iDrive 8 software. Many other smaller updates add up to one of BMW's most extensive facelifts in some time.
Starting with the exterior, BMW says that the front end introduces a new design language for its luxury models. The split headlights consist of high-mounted LED daytime running lights, while lower LED units are for the low- and high-beam headlights. These have a deep-set position and dark housing so they aren't too visible when they aren't switched on. The grille itself has been updated with new grille bars with chrome elements. The taillights have also taken on a new look and feature a new graphic with jewel-like detailing.
The biggest visual change after the headlights though is found inside the X7. In place of the old car's traditional instrument cluster and separate touchscreen display, the facelifted SUV gets a combined curved display comprising a 12.3-in digital gauge pack and a 14.9-in touchscreen with BMW's latest iDrive 8 software. The screen is subtly angled towards the driver like most BMW dashboards of the past 45 years have been, but can still be seen and operated by the passenger.
Powering the X7 are three different engines, each corresponding to a different variant. The base xDrive40i sees the biggest change. It now has a Miller-cycle turbocharged 3.0-litre inline-six with a 48-volt mild-hybrid assist system. It makes 375 horsepower and 383 pound-feet of torque, an increase of 40 horsepower and 52 pound-feet. The hybrid assist can also briefly boost torque to 398 pound-feet. It gets the xDrive40i to 60 mph in 5.6 seconds.
The M60i sees the least amount of changes. It does pick up a 48-volt hybrid assist, but output for the twin-turbo 4.4-litre V8 is unchanged at 523 horsepower and 553 pound-feet of torque. The 0-60 run takes 4.5 seconds.
Another big change is the absence of a traditional gear shifter for the ZF eight-speed automatic, the old car's joystick lever making way for a much smaller toggle located alongside the faithful iDrive rotary controller.