7 Attitudes You Should Have On Lagos Roads If You Are Relocating To Lagos.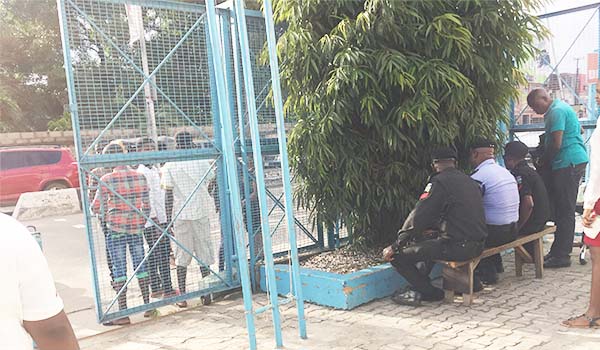 If you have just relocated or have intentions of relocating to Lagos,.. there are some survival attitudes you need to develop immediately.
Most Lagosians are already familiar with these while some learnt the hard way.
So let us begin..
Traffic Instinct:
Whether driving through the highbrow areas of Victoria Island, Ikoyi and Lekki or walking the streets of Mushin and Oshodi, one cannot but notice the chaotic traffic situations. So, it's either you evade the traffic by skillfully learning it's pattern or you sit in it and enjoy your music.
In Lagos, we have desperate policemen and traffic officials who are praying for you to make mistakes. There is no sorry or abeg in their dictionary once they catch you. They even hide behind trees like the policemen in this photo hiding to catch anyone that makes a U-Turn in front of Adeniran Ogunsanya Shopping Mall (Shoprite) Surulere. But really, there is an obvious "No U-Turn" sign at that spot.. Drivers beware.

Ask For Direction:
Sorry is your case if you take a wrong turn in Lagos. So it's either you ask a human being or ask google.. the google map actually works. I remember someone who wanted to drive into Oworo but took the wrong turn and found himself on 3rd Mainland Bridge.. He ended up spending 1 hour in traffic just to make a U-turn.
You Must Be Smart
Lagos is a fast paced society.. therefore, you have to be fast and smart. There are so many ways they can turn you into a MUGU in Lagos. Police can even catch you that changing lane on a dual carriageway is a crime. Also, some people still fall for that road side lottery where you will buy a N5,000 or N10,000 ticket to win a large plasma TV..  you will see people carrying their own plasma TV o.. but as for you, nah only N200 pirated CD you go win.. Lol.
You Must Be Patient
You have to be able to blend your fast paced smartness with patience.. or else, your head will explode in no time. Lots of frustration from traffic, okada riders, keke napep, policemen, VIO, danfo drivers and conductors as well as agbero that will obtain you in traffic. Just too much to contend with.
Set Out Early 
One excuse you must never give to your employer for getting to work late is.. there was traffic. Just pray that traffic held your boss and colleagues as well.
You Must Be Ready To Pay
No matter how loyal you are, Lagos ain't loyal. Let your car just make mistake and have a flat tyre at Oshodi.. you will know what's up. Tell us what you experienced if this ever happened to you.
More attitudes are welcomed in the comment section.