Reporter Fired After Jumping And Posing On Classic Cars During Auto Show (Video)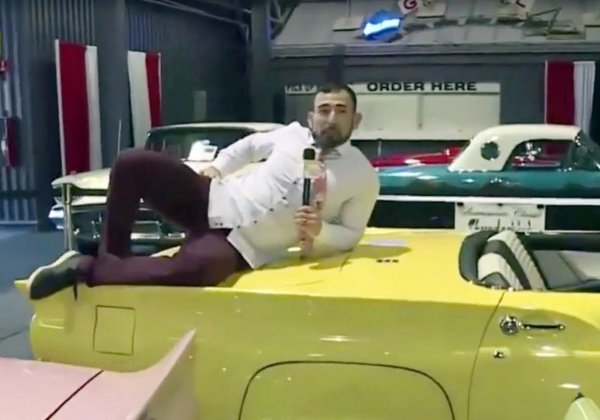 A California TV station reporter has been fired after climbing and posing on Classic cars during Sacramento International Auto Show.
A reporter for a California TV station has been fired after climbing and posing on Classic cars during auto show.
The reporter, Angel Cardenas, was reporting from the Sacramento International Auto Show for CBS 13's Good Day Sacramento when he taught jumping on someone's car was a good idea.
Cardenas was allowed into the show grounds well ahead of its opening. He said during the live broadcast that, "No one is out here to tell me which car I can't go in because some of these are off limits so I'm just going to live on the wild side,"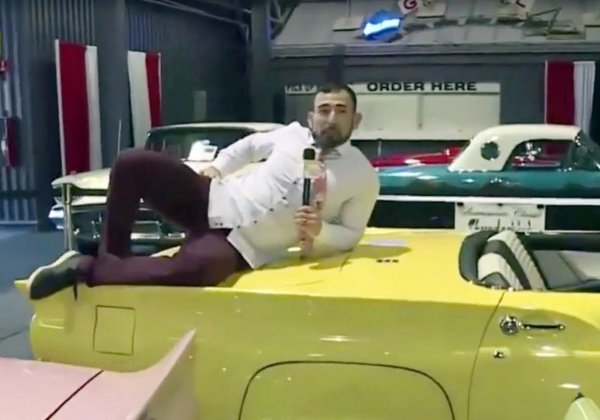 "Tell me: what you think about this pose here?" Cardenas then hopped onto back of a yellow 1950s Thunderbird convertible. He was seen posing on the classic car, with his shoes touching the exterior.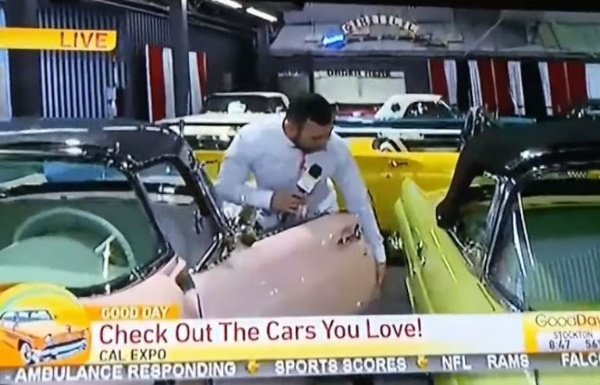 The reporter then moved on to a pink 1957 model. As he was opening the car door, he accidentally slammed the door into the door of a nearby green Thunderbird. He said,
"Oh no, I hit that other car,"
Then, he looked around and said,
"I don't think anyone saw it."
He then moved from classic cars and approached a new Ford SUV. Speaking to Ford employee, he says: 'Now there's a sign in front of that Ford that says "Please keep off displays," can I just finish up this live shot posing on the hood for my friends Tina and Ashley?'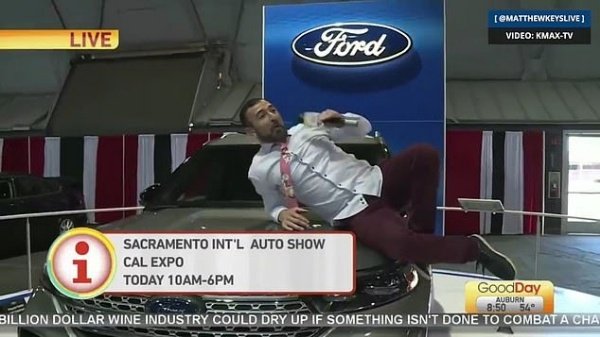 He then leaped onto the bonnet of the new Ford SUV. He says : 'Oh! That didn't sound good.' . Then the voice of someone off camera yelled, "Get off."
The reporter, who was now aware of his foolish pranks, said, "Oh boy, I'm going to get in trouble,"
The Sacramento International Auto Show posted a statement to Facebook after the incident, saying,
"After the Producer of the Sacramento International Auto Show reached out to the General Manager of KMAX TV regarding yesterday's astonishingly awful incident, she received a call this morning from the GM that the reporter from the Good Day Sacramento segment has been terminated immediately and the station expressed their sincerest apologies for the incident."
The car show's producer said none of the cars were damaged but that the show's producers were outraged nonetheless.
The TV reported violated a key tenet of the classic car community: You don't touch another person's ride without their permission, let alone jump all over it.