Rolls Royce Phantom Tempus Collection Brings The Galaxy To Earth (Photos)
Rolls Royce is introducing the new Phantom Tempus Collection, a new limited edition of the brand's flagship model. It is inspired by "time, astronomical phenomena and the infinite reaches of the universe". The new limited-edition Phantom is strictly limited to 20 examples, all of which have already been sold.
All Tempus Collection models come with a Kairos Blue paint finish. This paint contains mica flakes that produce a gentle sparkle. It is said to mimic the effect of stars in the night sky.  In addition, the exterior receives black detailing too, while the famous Spirit of Ecstasy – which has just celebrated its 110th anniversary – is personalized with a date or location that each client considers important in some way. The decadent interior hasn't gone without flourishes of its own and is best described as spaced out – quite literally. Just as the exterior paintwork sparkles, so too does the Bespoke Starlight Headliner. The dashboard – called the Frozen Flow of Time Gallery – is a single billet of black-anodized and hand-polished aluminium milled to feature 100 individual columns. Light-reflecting off the dash gives the design a ripple and flex effect even though it's a solid structure.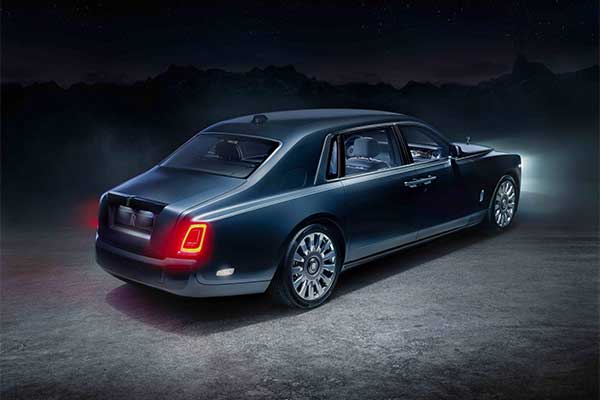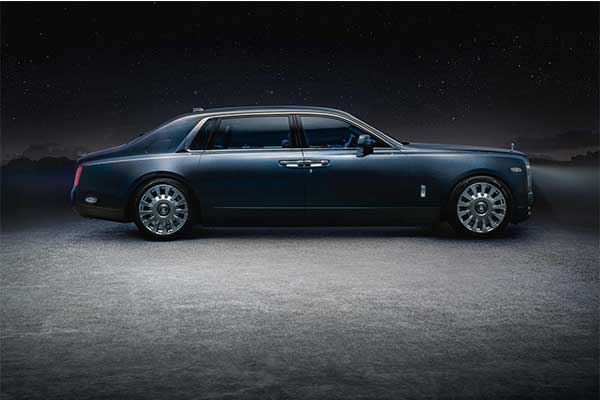 Rolls Royce has added a description of the dashboard artwork on an engraved plaque in the glove compartment, together with a quote from Albert Einstein: "The distinction between past, present, and future is only a stubbornly persistent illusion". The door cards are also bespoke, featuring hundreds of illuminated perforations. There is no traditional Rolls-Royce clock on the Tempus, which was entirely intentional. "Rolls-Royce clients are not bound by Time," said Torsten Muller Otvos, the company's Chief Executive. "The outside world with all its pressures and demands are forgotten."
The finishing touch is the unique Tempus Champagne Chest. This includes a pulsar artwork hand-painted onto the table, below which is the chest housing thermal flasks for chilling both your champagne and caviar, together with four hand-blown crystal flutes arranged to evoke a V12 engine and a caviar spoon.