Remember This Russian SUV Lada Niva? It Has Been Upgraded (Photos)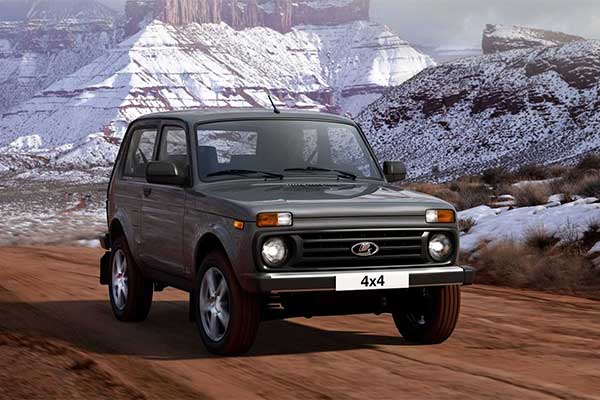 The Lada Niva is an iconic small 3-door SUV back in the day by Russia which was a response to the likes of the Jeep Wrangler and Land Rover Defender etc and of course way cheaper. A 5-door model was available too but it was almost nonexistent as the 3-door was the most popular. That aside, a German company (Partisan Motors) has upgraded this classic vehicle and restrict them to just 50 units. In Nigeria back in the day, the Lada Niva was a popular tow truck and was popular to some extent.
Back to the lastest upgrade, Partisan Motors slightly revised body with a hood scoop and bumper with tow hooks. It rides on knobby, all-terrain BF Goodrich tires that wrap around wheels with five sets of double spokes. Larger fenders cover them. Roof rails provide a spot to tie down cargo. Big running boards provide a step into the cabin. We just have to make do of the sketch work but the interior is all leather and it looks great. The entire dashboard has been reworked to give it that 21 century feel.
Powering this SUV is a 1.7-litre 4-cylinder engine that outputs a measly 83hp mated with a 5-speed manual and a permanent 4-wheel-drive. If speed is your thing then this SUV will disappoint as it does 100km in 17 seconds and has a top speed of 88 mph.
First introduced to Soviet Russia as the VAZ-2121 in 1977 and it was among the first SUVs to use a unibody chassis instead of body-on-frame. It was a success back in the day due to its offroad prowess and affordability.