Helen Paul Mimics Bus Conductor As She Calls Obalende/CMS In America (Hilarious Video)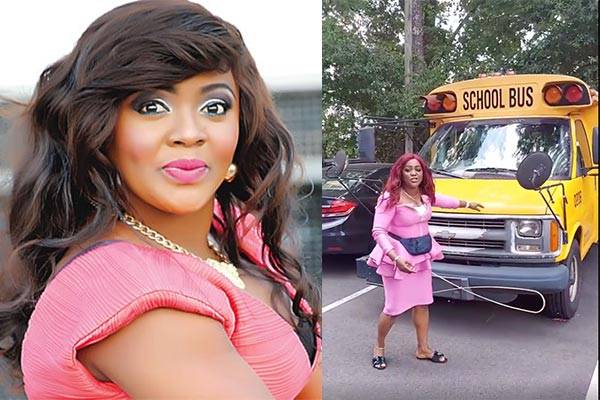 Popular Nigerian Comedian Helen Paul was spotted calling passengers like a bus conductor in a hilarious video. A twitter user, Oga Sammy posted the comic video where Helen was calling passengers into a parked school bus somewhere in the United States.
Borne out of her Comedy trait, she mimicking Lagos Danfo Conductors using their voice tone to beckon on passengers.
Also, she imitated their bouncing on the toes style. "Let's go, "Let's go, Obalende-CMS. Aeroplane no dey work, but Danfo dey work. America la wa, (We are in America). Obalende CMS, 5 Dollars ni o." She was chanting.
Helen Paul is a comedian, singer, and actress from Nigeria. She is also a stand-up comedian, known as Tatafo. She is characterized by voice varieties that make her sound unique.
Helen also graduated with a doctorate in Theater Arts from the University of Lagos.
Paul has worked and served as a freelance and full-time presenter at several media houses in Nigeria. These include Lagos Television (LTV 8), Continental Broadcasting Service (CBS), and MNet (where she currently co-presents JARA on Africa Magic).
Helen broke out as a naughty comic character on the radio program Wetin Dey on Radio Continental 102.3FM, Lagos. Listeners knew her on the program as "Tatafo", a witty kid who addresses and lampoons societal issues in a satirical manner.
Meanwhile, she also presented programs on TV Continental and Naija FM 102.7.