S*ex In A Car In A Public Place Is Not A Crime In Nigeria – Police ACP
There was a viral news of couples that were caught having s*ex in a car were shamed and beaten by the people of the public in a yet to be disclosed location.
There has been a viral news circulating about couples that were caught having s*ex in a car. The couples were shamed and humiliated by other resident that caught them in the act.
The pictures of the couples have been circulating all over the internet via the various social media platforms.
The humiliation they got sparked up a lot of reactions from various people. Some said since they are couples and it's not an act of rape, it's no crime. Some say it is wrong for them to get involved in such intimacy in a car.
A Twitter user who must have been concerned about the whole matter took it up and asked the police ACP, Abayomi Shogunle, a very important question – he asked if it's a crime to have s*ex in a car. He got a reply.
In his words;
Oga @YomiShogunle please is it a crime to have sex in your car?
He got this reply;
NO.
Sex in a car in a public place is not a crime in Nigeria provided;
Location is not a place of worship
Parties are 18 yrs+
The act is consensual (agreed to by parties)
Parties are of opposite sex
If threatened with an arrest over above, pls contact @PoliceNG_PCRRU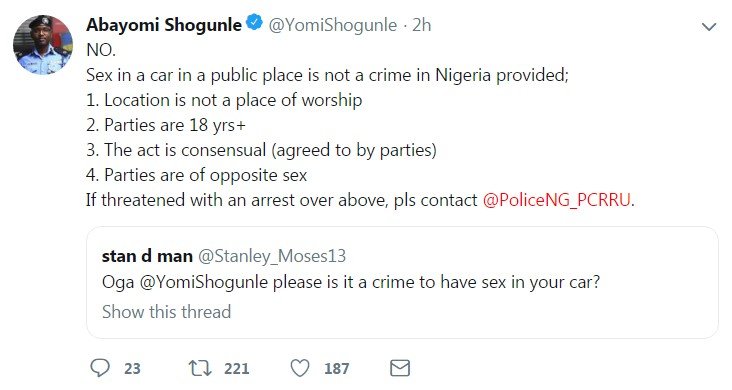 Aboyomi Shogunle is the Assistant Commissioner of Police. His official handle on Twitter is @YomiShogunle; it's his verified account.