Smart #1 Revealed As A Tiny Electric SUV With a Good Amount Of Power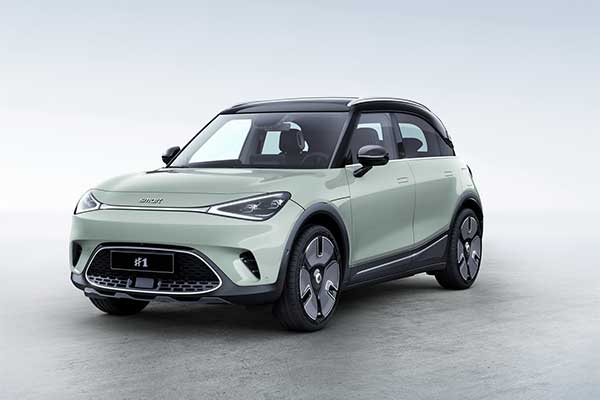 Smart is finally back with an all-new product and it's entering the all-electric crossover fray with this, the #1. Designed to take on other small electrified models like the Hyundai Kona and the Volkswagen ID.3, the Smart #1 is the "nucleus of things to come" according to the CEO of Smart Europe.
Visually, the Smart is virtually unchanged from the concept. It still has a floating roof, contrasting colours and a curvy body. The only changes seem to be some extra little detailing in the front and rear bumpers and the addition of door handles, which are flush to the body. They pop out when someone needs to get in. The doors also have frameless glass. The whole car is still fairly small, but not quite as small as some past Smarts.
Inside, the design is pretty minimalist with a 9.2-inch LCD gauge, a 12.8-inch central tablet and a 10-inch head-up display. There is LED lighting throughout, and Smart says that the interior is dolled up in premium materials. Five can sit inside, and Smart says that there's as much room in there as there is in an E-Class.
On the technology front, you get a Level 2 driver-assist system with adaptive cruise control, adaptive high beam headlights, lane-keep assist, automatic parking, blind spot assist and a highway and traffic jam assist. Other safety equipment includes seven airbags.
The Smart #1 boasts a 66kWh battery, mated to a 268bhp rear-mounted electric motor. This provides a range of up to 273 miles, which is more than the 260 miles or so that you can achieve in the EQA. The immediate torque from the electric motor should mean that the #1 will feel nippy around city streets, although heavy acceleration will swiftly deplete the charge. Thankfully, 150kW rapid charging will top up the Smart from 10-80% in just 30 minutes when connected to a public fast charger.