Ford Honors Holman Moody With Special Heritage Edition GT
Ford GT has reached the end of its production life but it's not going away without offering something special (probably limited) in the veil of the Holman Moody Heritage Edition.
The American race team based in Charlotte, North Carolina, campaigned three GT40 race cars in the 1966 24 Hours of Le Mans—the one in which Ford made an epic 1-2-3 finish. One of the Holman-Moody cars, bearing racing number 5 (chassis number P/1016), was the car that finished third. First and second places went to GT40s fielded by Shelby American. Holman-Moody along with Shelby also helped develop the GT40's race-winning 7.0-litre V-8, as well as the brake, suspension and tire setups.
The model features the gold and red livery that could be seen on the Circuit de la Sarthe that year, including Oxford White roundels with the number 5 stamped on the doors, hood, and rear wing. It also features several exposed, gloss carbon fibre parts, including the 20-inch wheels, the front splitter, the side sills, the mirrors, the engine louvres, and the rear diffusor.
On the inside, Alcantara-trimmed carbon seats are adorned with gold stitching, matched by the fine gold embroidery found on the instrument panel, door register bezels, and seat X-brace. A rather charming touch comes in the form of the paddle-shifters; an absolute visual delight in Holman Moody Gold.
The gold accents are toned down by the dominant Ebony interior colour. The instrument panel receives a dash of leather but Alcantara has been used liberally, the grippy material coating the pillars, headliner, and, as mentioned, seats.
Unlike the first-generation Ford GT that flaunts a blown V8 and a manual, the second-gen takes its mojo from a twin-turbo V6. The 3.5-liter EcoBoost makes 660 horsepower and 550 pound-feet of torque, resources that are channelled to the rear wheels by a DCT with seven forward ratios.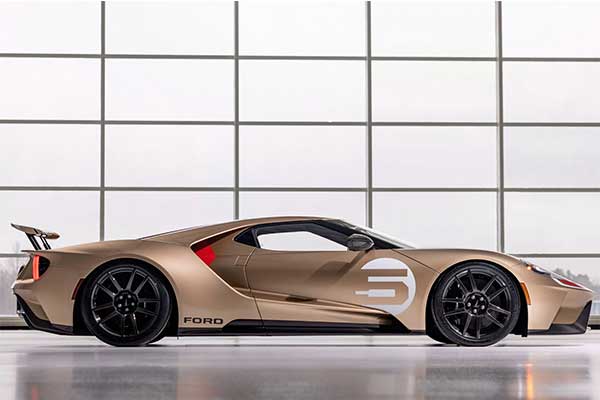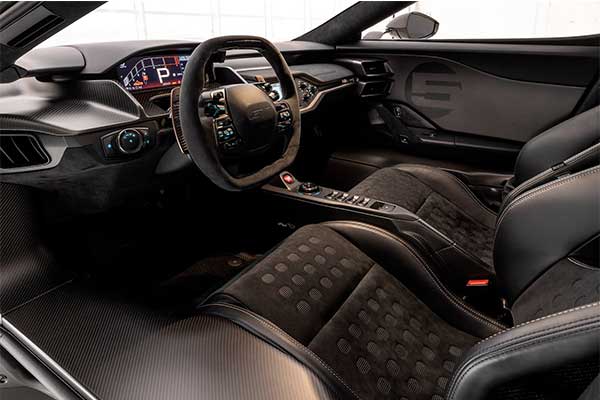 Read More:

Ford Launches GT Heritage Edition As Production Comes To An End