Tesla Model S Plaid Dethroned As Fastest EV At The Nürburgring By Porsche Taycan Turbo S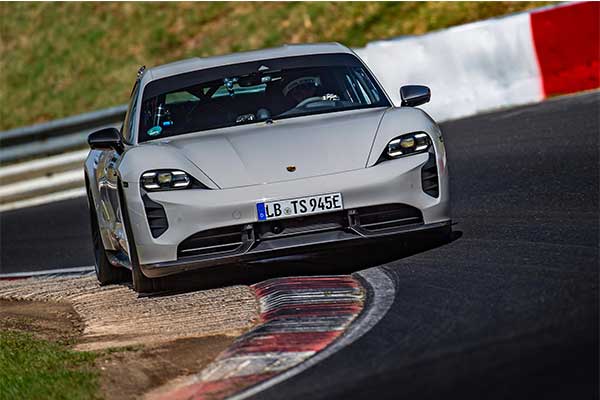 The Porsche Taycan Turbo S has set a new Nürburgring lap record for electric production cars, shading the previous champion the Tesla Model S Plaid. Porsche development driver Lars Kern took just 7:33.350 to complete the lap, besting the Model S Plaid by more than two seconds. "In the past, only thoroughbred super sports cars got into the 7:33 range," said Kern. "With the new performance kit, I was able to push even harder, and the car was even more precise and agile to boot."
The only modifications made to the car were the addition of a roll cage and racing seats required for safety, and according to Porsche, the weight was unchanged from a stock standard model. A notary was also on hand to verify the time. The Taycan Turbo S features a dual-motor powertrain good for 616 hp, or as much as 750 hp for a few seconds when accelerating from a standstill using launch control. If you're unfamiliar with the performance kit, it encompasses new 21-inch wheels wrapped in Pirelli P Zero Corsa tires while the Porsche 4D Chassis Control gets a software update.
Customers will be able to order the kit through Porsche's Tequipment division from the end of 2022, and it will then be retrofitted at Porsche's Zuffenhausen workshops. The company admits the tires are "primarily designed" for track driving, but says owners can switch to less focused hoops whenever they like without having to get Porsche to reset the chassis software.
Porsche set the record for electric production cars in 2019 when the Porsche Taycan Turbo finished in 7min 42sec before it was de-throned by the Model S Plaid two years later.
"We're delighted that the Nürburgring record for electric cars is back in Porsche's hands," said Kevin Giek, vice president of the Taycan model line. "This lap time not only shows how much potential lies in our new performance kit but also confirms once again the sports car genes of the Taycan."