Tesla Police Car Ran Out Of Battery Power During A High-speed Chase
Tesla Police Car
"I'm down to six miles on the Tesla so I may lose it here in a sec."
"If someone else is able, can they maneuver into the number one spot?"
"I've got to try to find a charging station for the Tesla so I can make it back to the city"
Those were the last words from Fremont Police officer during a 120 miles per hour high-speed chase last Friday in the San Francisco Bay Area.
According to the Police department spokesperson:
"The Tesla wasn't fully charged at the beginning of the shift"
"This unfortunately happens from time to time even in our vehicles that run on gas, if they aren't refueled at the end of a shift."
The Model S police car typically has a 40-50 percent charge remaining after a shift, and according to the department, "We are easily able to make it through an 11-hour shift with battery power to spare."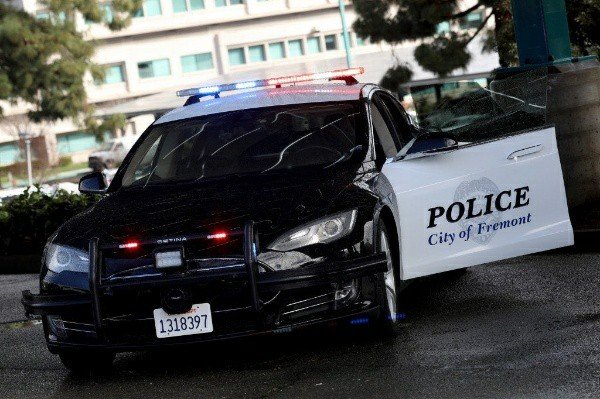 Last year, Fremont's police department, located in Tesla's home town, became the first police agency in United States to add a Tesla battery powered car into its patrol fleet.
After several modifications, such as the addition of push bumpers, video Camera and siren, the department took delivery of the 2014 Model S cruiser in March this year as part of a pilot program that included a Toyota Prius and Ford Fusion Hybrid.
The 5-door electric car will go over 370 miles or 600 km before running out of battery juice. A Supercharger will give a 85 kWh battery pack an additional 180 miles or 290 km of range in about 15–30 minutes.
The Model S P85D, a dual-motor all-wheel-drive vehicle has top speed of 155 mph (249 km/h). It will move from standstill to 60 miles per hour (0 to 97 km/h) in 3.2 seconds.
Despite the battery-level disappointment, the "felony vehicle" was eventually located after the suspect, who managed to escape, crashed it into the bushes.