The Best Pickup Vans to buy right now
With a deep insight into the products from many automakers, they all tend to build eye catching rides that could serve as fancy rides and also sustain you for hours on the highway. Do you need to haul or tow some stuff? Then your car or minibus can't serve this purpose to your best satisfaction, hence you might need to get a pickup truck for this service. Check out a number of pickup trucks that can do this for you below.
Ford F150
F150 is one of the bestselling F series pickup trucks and a Ford flagship brand. The pickup exudes its ability to handle toughness on challenging situations and toughness on highways against potholes and bumps. The presence of four engines in this Ford pickup truck makes it perform efficiently as it is paired with a 3.5l V6 engine which makes up a 365hp. The toughness of this vehicle is showcased in its towing and hauling capacity of up to 11,300lbs if properly equipped and managed.
Chevrolet Silverado 1500
This vehicle is majorly a good choice for consumers who want a versatile pickup and want affordable cost of maintenance and purchase and you're opened to choose out of a number of options such as a crew cab, four door double cab or a two door regular cab which are offered with several bed lengths. The efficiency of the Chevrolet Silverado 1500 extends to its 4.3L engine which offers the required fuel efficiency and a balanced running power which is offered from a 285 horsepower. If properly equipped, the pickup can tow up to about 12,000lbs and runs on 18mpg on city roads and 23mpg on highways. The presence of a 4G LTE Wi-Fi keeps passengers connected on the Internet.
Toyota Tacoma
The Toyota Tacoma has been Toyota's bestselling truck due to its capability and durability offered from a strong headed engine at a very good value. The Toyota pickup truck is an extended cab of 2.7L four cylinder engine which provides 162hp alongside a max hauling capacity of 3,500lbs if properly managed and equipped. The Toyota Tacoma pickup truck runs an estimated of 23mpg on highways and about 18mpg in city.
Dodge Ram 1500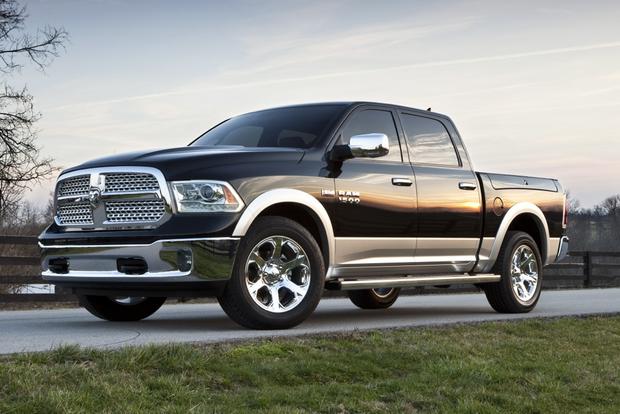 Dodge made a standard pickup truck with a sporty exterior look. The truck has a powerful 3.6L V6 engine which gives a 305 horsepower and a hauling capacity of about 10,350 when adequately equipped; sounds cool. The presence of an electric stability, airbag occupancy sensor and an overhead airbags present in both rows of seat is noted as well as it makes up the beautiful interiors.
GMC Sierra 1500
The GMC Sierra 1500 is a beautifully designed pickup that has beautiful bold grille exterior designs and a set of eye catching cutout on the grille having accent moldings on each angular wheel opening. The GMC pickup truck is powerfully built with its 285hp that runs on the four wheel drive with anti-lock brakes (ABS) and a Proactive Roll Advance electronic stability system. Other features of the GMC pickup truck are the standard six speed automatic transmission and a 4.4L V6 engine which runs on a 9,100 hauling capacity.