The New & Yet-To-Be Used Ikeja Bus Terminal Is Being Reconstructed (PHOTOS)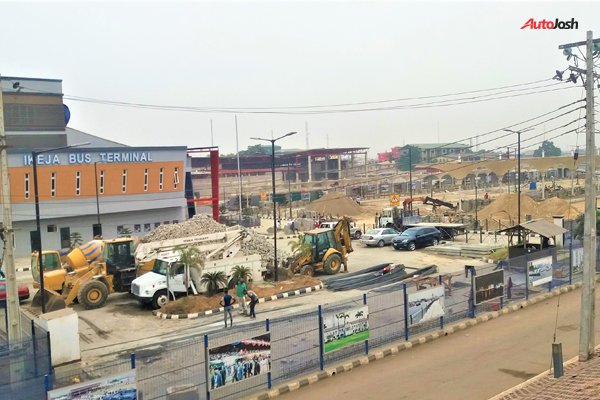 The ultra-modern Ikeja Bus Terminal was commissioned last year, precisely in March, 2018.
The event organized to commission the facility was attended with so much fanfare. The President of Nigeria – Mohammadu Buhari– did the honours of launching the landmark transport terminal situated in the heart of Ikeja.
Ironically, the terminal was touted as one of the best things to have happened to Lagos in terms of public transportation,. It was for this reason it was dubbed a world-class bus terminal and not bus-stop, especially after critics questioned the rationale of a president commissioning a 'bus-stop'.
Months after  its commissioning, the imposing public transport facility is yet to be put in use.
However, and oddly, renovation work is currently going on there.
The interlocking stones have been uprooted and a number of other things within the terminal are being reconfigured.
Interestingly, part of the reconstruction work going on within the facility is the erection of a privately-owned, but government-approved shopping mall.
The cost of constructing the Ikeja Bus Terminal was not made public. Thus, it is unclear how much this afterthought will cost the tax payers in Lagos state.
The Ikeja bus terminal will serve as the hub of all transport activities within the Ikeja Zone, serving over 50,000 passengers daily and providing access to many destinations, including Oshodi, Ojota, Iyana-Ipaja, Maryland, Agege, Ogba, CMS, Obalende, and Iyana-Ipaja.