The Red Pill For The G-Class: Mercedes-Benz Appeared At The Premiere Of "The Matrix Resurrections"
The new film "The Matrix Resurrections" celebrated its US premiere at the Castro Theatre in San Francisco on 18 December 2021. In the film, audiences will return to a world of two realities: one, everyday life; the other, what lies behind it.
Neo, the main character in the film, is again faced with the crucial question: the blue or the red pill? If he takes the blue pill, he remains in the everyday life of the simulated world of the Matrix. If he chooses the red one, he escapes from the alien-determined life into the unknown real world and once again fights against the rule of the machines. Mercedes-Benz appeared at the premiere via the installation of an imposing red pill next to the historic film palace. It was around 12 metres long, four metres wide and 3.5 metres high. In it, a powerful Mercedes-AMG G 63 (fuel consumption combined: 14.4 l/100 km | CO₂ emissions combined: 330 g/km)[1] in selenite grey was presented. In the film, the off-road icon G-Class also takes part in a fast-paced chase. In a G 550 (US model), more rebels pave the way for Neo and Trinity, the two main movie characters, to escape from the Matrix.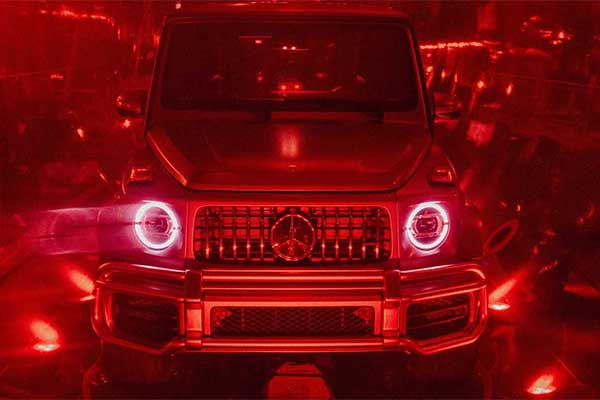 "The G-Class and the red pill go very well together. Both stand for freedom, individuality, and self-determination. That's why we are delighted to support Warner Bros. Pictures with the worldwide cinema release of 'The Matrix Resurrections' with an extraordinary and attention-grabbing installation," says Dr Emmerich Schiller, CEO Managing Director Mercedes-Benz G GmbH and Head of the Off-Road Vehicle Product Division at Mercedes-Benz AG. "Sponsorship is a central component of our branded entertainment activities. Mercedes-Benz has a long tradition as a sought-after partner in the film industry, both nationally and internationally. We have had a close partnership with Warner Bros. for around 20 years because the medium of film allows brand and product communication to be implemented in a highly emotional way and also immortalized to a certain extent."