This Ambode's Legacy Is Being Destroyed Even Before His Exit (PHOTOS)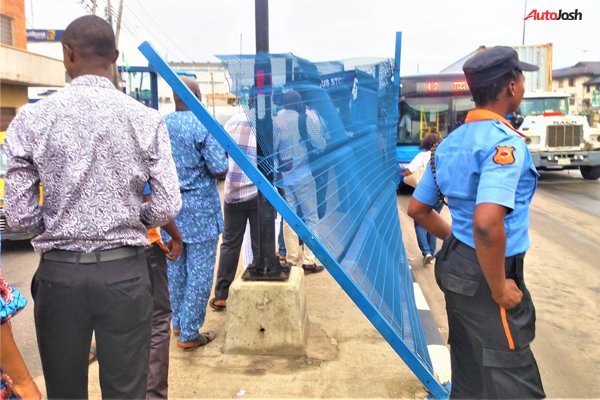 Governor Akinwumi Ambode is in the twilight of his stint as the Governor of Lagos state.
Unarguably, as he makes his exit, he would be leaving behind not a few legacies.
Most of those legacies are evident in the road and transportation sector.
For instance, the Ambode administration introduced laybys, slip roads, etc on traffic-prone roads in the state. This has significantly aided in the free-flow of vehicular traffic in the state.
Also, he built 2 flyover bridges. The construction of another one – the third – is still ongoing.
Ambode also built not a few pedestrian bridges across the state. The resurrection of the Inland waterways mode of transport in Lagos state has reached an advanced stage, thanks to the Ambode-led government. Over 150 roads were reconstructed under his watch, etc.
However, one innovative solution to a long term challenge on roads in the state was introduced by the Ambode administration.
It is the installation of median wire-mesh fences along expressways in Lagos state.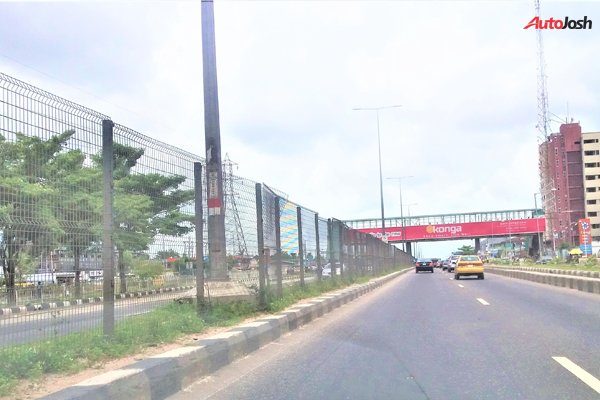 Soon after his election as the governor of Lagos state, Gov. Ambode approved the installation of Wire-mesh fencing on medians on major expressways around Lagos state.
Installing Wire-mesh Fencing became necessary in order to ensure safety and orderliness on the expressways.
With these Wire-mesh fences, hawkers no longer have a field day on Lagos highway just as pedestrians do not cross the highway indiscriminately like before.
Instead, pedestrians are left with no choice than to use pedestrian bridges, walkways or other designated places.
Also, with the fences, pickpockets, robbers and other criminals who emerge from nowhere and snatch valuables from unsuspecting pedestrians and motorists before disappearing into their hideouts have also being prevented from operating easily.
Many agree that the presence of the median fences contributed to the remarkable free-flow of traffic on major highways in Lagos.
These constructions have also enabled the government to save the cost of enforcing environmental laws in the state.
Sadly, these fences are – one of Ambode's legacies in the road transport sector – is already being destroyed. And this is happening even before his exit as a single term governor of the state.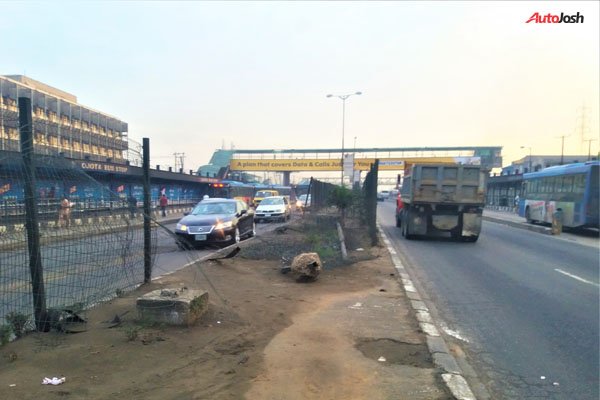 The massive vandalization of these fences is easily noticed at locations like Ojota, Ketu, Obanikoro, Onipanu, Fadeyi, Barracks bus stop, etc.
These median fences, which were designed to be easily fixed or replaced if any segment is damaged, is being left to further deteriorate.
As these Wire-mesh Fencing gets vandalized, insanity is fast returning to most expressways in Lagos state.
As a result, pedestrians now avail themselves of the cutouts on these fences to cross busy expressways, in the process endangering their lives, and also impeding the free flow of traffic.
Also, hawkers and miscreants are taking advantage of the opportunity presented by the vandalized fences to stage a come-back to some of these expressways.
Sadly, LAMATA – the agency whose purview it is to maintain these road infrastructures – appears to be unconcerned about the speedy degradation of the median fences on the expressway.
With the incoming of Babajide Sanwo-Olu, it is expected that this particular legacy of Governor Ambode will be preserved and kept well-maintained.