Throwback: Remember This Little Toyota Sera Sports Car? (Photos)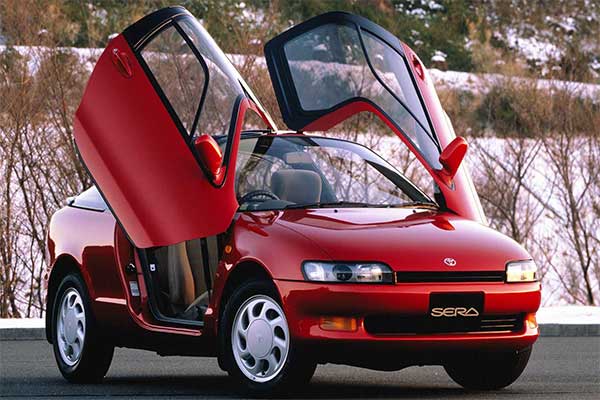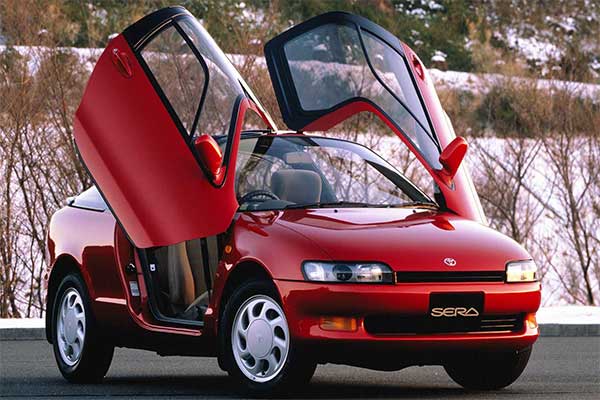 We bet that most of us have forgotten that this car ever exited but this was a very unique vehicle and in the spirit of throwback lets say something about it. Behold the Toyota Sera, a 2+2 seater sports car that has… wait for it…"Butterfly doors". Yes, you heard that right, butterfly doors that are now seen in most hypercars and these cars were quite affordable. It made its debut in 1990 and lasted 6 years before it was discontinued and some were seen in Nigeria too.
The Toyota Sera was based on the Starlet hatchback as they share similar parts but the Sera was miles ahead of its time. It featured an all-glass roof which was new in the 90s but the hinges on the butterfly doors left insufficient space for conventional full-sized opening windows. Aside from all that it was really an amazing looking car even today people will still stare.
It is power by a 1.5-litre 4-cylinder that outputs a measly 104hp and 97 lb-ft of torque. A 5-speed manual 0r a 4-speed automatic transmission was available to choose from.  All model was available with a front-wheel-drive system which is typical of Toyota.
Although Toyota sold a few numbers of the Sera that was among the reasons it was discontinued and the fact that the world wasn't ready for that design. It was beautiful and will remain among Toyota's most iconic cars of the 90s. Most of the Toyota Seras was in right-hand drive because they were made for the Japanese market but were also grey imported to countries that also used right-hand drive like the UK.