Toyota Is Launching A Retro Looking Hybrid SUV Of Corolla Cross Size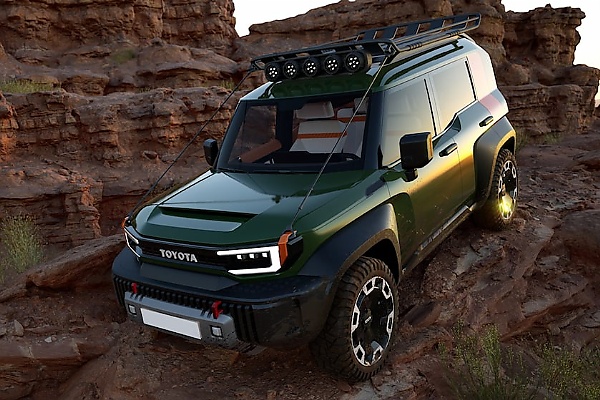 Toyota is reportedly working on a hybrid SUV with quite a retro look. A car in the spirit of the FJ Cruiser, which we have probably already seen in pictures.
According to the Japanese Best Car, Toyota is preparing a relatively compact SUV that will become part of the Land Cruiser family. That statement does not come as a complete surprise, because it concerns the car that was briefly hinted at at the presentation of the brand-new Land Cruiser. An SUV with clearly a bit of a retro appearance. Even if it was just one shadowy image; it is clear that it is mainly reminiscent of the Toyota FJ Cruiser, which in turn was a kind of retro nod to the Land Cruiser J40.
In profile,  the as-yet-unnamed newcomer is strongly reminiscent of the Compact Cruiser EV concept car that Toyota showed at the end of 2021 together with numerous other study models. The surprising thing about the information from the often well-informed Best Car is that it was initially said to be a hybrid SUV, while the Compact Cruiser EV was clearly a preview of a fully electric model. It is still plausible because we were also shown a concept car at the time that later turned out to look ahead to the C-HR and the C-HR is also available again with fuel engines.
However, don't be surprised if this SUV also eventually comes onto the market with a fully electric drivetrain. That could of course make it even more interesting in certain markets. According to Best Car,  the possibly Land Hopper SUV will be of the Corolla Cross size. Not only thanks to its retro body but certainly with an electric drivetrain, it would fit perfectly next to the more conventional SUV in the range. It might then have to share part of the market with the Toyota 'bZ3X'.