Toyota Launches GR Supra A91-CF Edition That Brings Carbon Fibre To The Menu (Photos)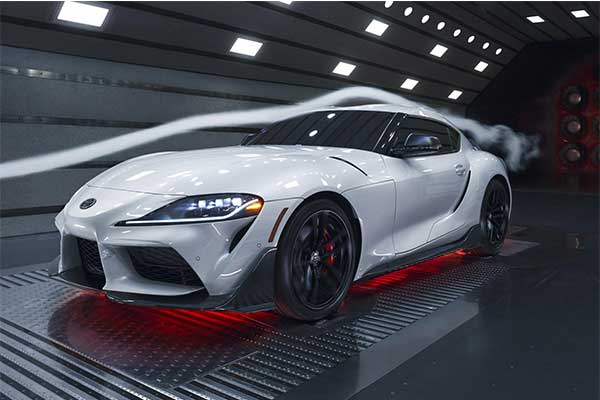 For the 2022 model year, Toyota unveiled a new Supra variant called the GR Supra A91-CF Edition, GR for Gazoo Racing and CF meaning carbon fibre. The model is limited to just 600 vehicles, making it the most exclusive fifth-generation Supra to date. The car is exclusive to only the American market and its powertrain remains untouched but the kits fitted are eye-popping.
The A91-CF Edition adds a new carbon fibre front splitter, larger canards, carbon fibre side rockers, carbon fibre duckbill spoiler and lower rear canards. Toyota says the extra aero bits combine to improve downforce and stability both on the road and on the track, so it's not all show. It also comes with unique 19-inch wheels painted matte black. Exterior paint options include Phantom (also matte), Zero White and Nitro Yellow.
The sporty treatment continues inside where the cabin is trimmed in Alcantara and leather in a combination of red and black. Carbon fibre interior trim works nicely with the sport pedals and the red stitching on the 14-way power-adjustable sport seats.
If you can't get your hands on the CF-Edition, Toyota says all Supra 3.0 models get heated seats as standard equipment. Red is also a new interior option on the 3.0, and Supras equipped with the premium audio setup will have full-screen Apple CarPlay functionality.
Lastly, every 2022 GR Supra owner will get a one-year complimentary membership to the National Auto Sport Association. It's only $45/year for a NASA membership, but Toyota says its deal also includes one free High-Performance Driving Event (HPDE), which would let you attend a one-day high-performance driving school on a road course. Pricing is yet to be revealed but the A91-CF Edition is expected to go on sale in fall 2021.