Toyota Showcases Hilux Revo Electric Pickup Truck Concept In Thailand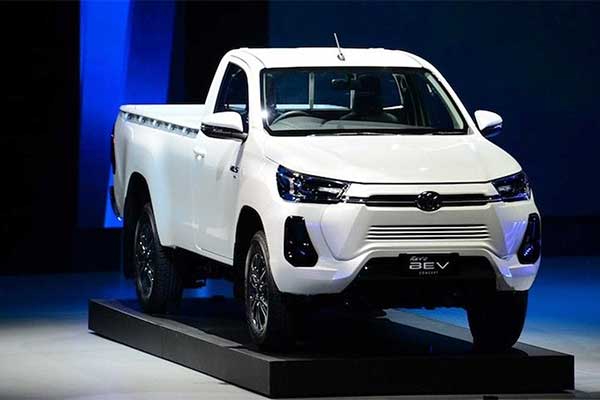 Toyota Thailand unveiled a new electric pickup truck called the Hilux Revo BEV. Sadly, there's almost no information about it. We can make some assumptions, however. It's based on the current Hilux, built for Europe, Southeast Asia, and Africa.
The concept truck was presented on stage by Akio Toyoda, President, and CEO of Toyota Motor Corporation, who hinted at least some of the development work for the EV truck was made in Thailand, where the Hilux is a massively popular vehicle. This was also in collaboration with the Japanese manufacturer celebrating its 60th anniversary of operations in Thailand.
The Toyota Hilux Revo BEV Concept is clearly based on the ICE Hilux judging from its design, with the only noticeable differences to the diesel-powered model being the closed-off grille and charging port on the front fender.
As far as a release date for the electric Hilux, there is none because, per Toyoda, Toyota is focused on getting as many people into high-quality, sustainably designed cars as possible. That said, this is at least official confirmation. An all-electric Toyota Hilux is coming. It's got a brand name and everything.
Alongside the Hilux, Toyota also showed off a second truck called the IMV 0 Concept. IMV stands for Innovative International Multi-purpose Vehicle, a platform designed to accommodate affordable trucks, vans, and cars for markets like Thailand.
"I truly believe this is a product that can enhance the quality of life for many people and provide new economic opportunities," said Toyoda.