Video Director, Nell, Narrates How He Survived An Armed Robbery Attack in Lagos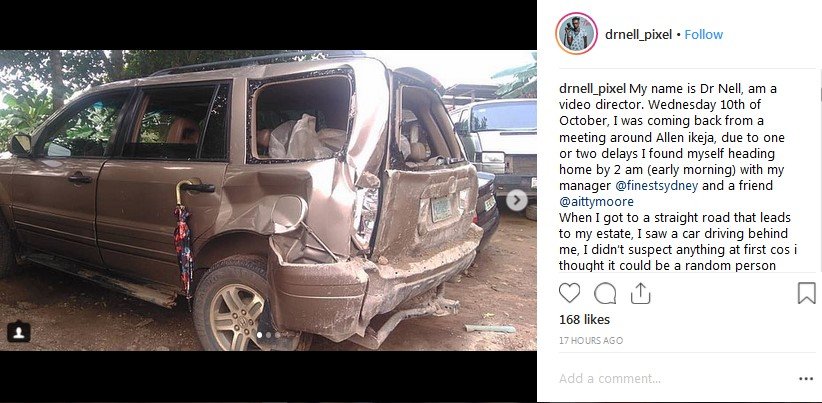 Nigerian Video director, Nell, narrated how he managed to survive an armed robbery attack in Lagos. In his story, he tried to escape with his Honda Pilot SUV but it didn't work out for him.
He was caught along with his friend and the manager. They were then robbed of the valuables in their possession.
Watch Nigerians Struggle For BRT In Agric Bustop Terminal, Ikorodu, Lagos
Read his story below;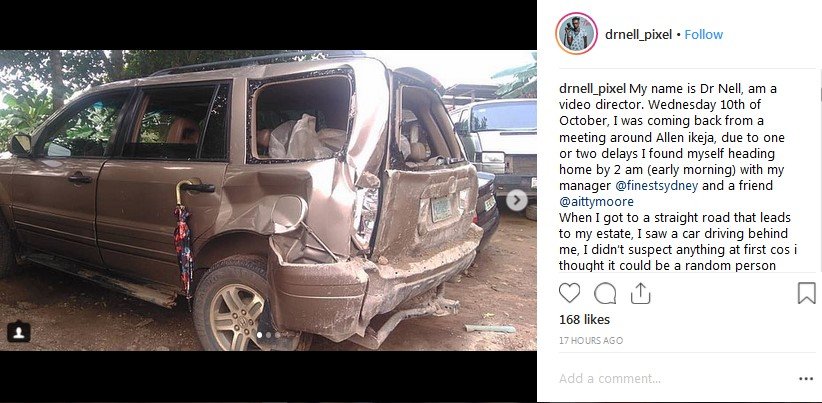 My name is Dr Nell, am a video director. Wednesday 10th of October, I was coming back from a meeting around Allen ikeja, due to one or two delays I found myself heading home by 2 am (early morning) with my manager @finestsydney and a friend @aittymoore.
When I got to a straight road that leads to my estate, I saw a car driving behind me, I didn't suspect anything at first cos i thought it could be a random person going home by that time too. Immediately the car overtook me and parked infront of me, I didn't suspect anything I just drove pass.
Just when I was about to turn to a street, the same car blocked me Infront and about 5 or 6 guys came out with a local made gun and matchet, I got scared and tried to reverse and get away when one of them used his matchet to smash my front windshield, out of fear I placed my foot on the accelerator and ran into a wall in reverse, the debris fell ontop of the car and shattered the back mirror. Then they attacked. The dude with the gun pointed his yeye nonsense gun on my manager's head and was shouting and asking for money, in the end, they collected my two phones (android and iPhone) my managers phone and wallet and my friend's phone and some money.
As if that wasn't enough, they took my car key and left us completely stranded that night. But I ThankGod none of us got hurt.
December is fast approaching and everybody wants to make money irrespective of the means. Be watchful and always stay vigilant. Most especially, minimize your night movements my people. Stay alive and safe.