It's the Countdown To The Glorious Ondo Auto Rally, 2018!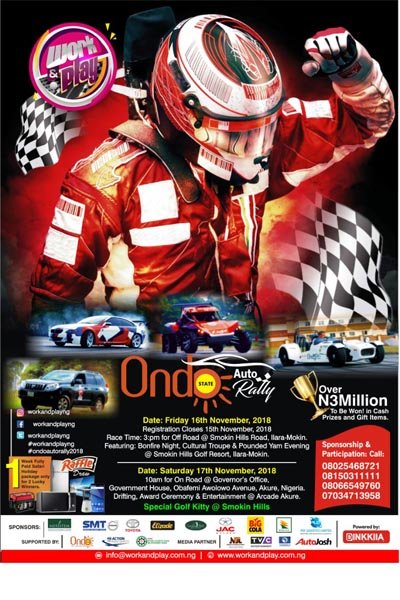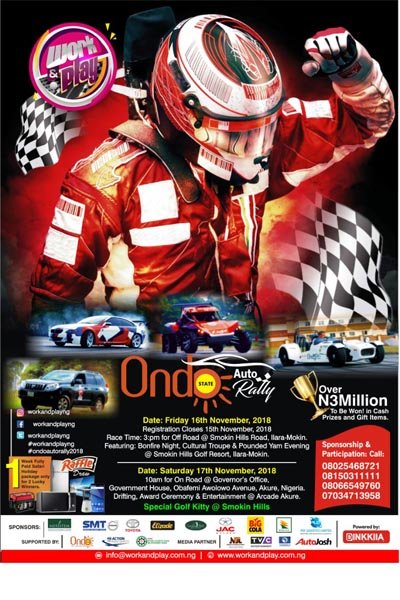 Once again, it's on!
It is the much-anticipated Ondo Auto Rally, 2018.
The first edition was full of pleasant motoring experiences.
Car enthusiasts, that graced both editions, departed with fond memories.
Indeed, the fun was unending throughout the event. There was just about every auto event one could think of: Car race, Off-Road Rally, Circuit Road Race, Bike Race,  auto stunts performances, etc.
Since the first edition, we have witnessed a massively growing awareness and interests in Motor Sports in Nigeria. The 2018 edition promises to be a festival of fun activities, with an anticipated high attendance by car race enthusiasts.
This year's edition will feature bonfire night, cultural troupe, pounded yam evening at the Smoking Hills Golf Resort, Ilara-Mokin, and, of course – car and bike races!.
And guess what?
Over N3million in cash prizes are available to be won by racers in different categories.
This year's event will hold at Friday 16th – 17th of November 2018.
Registration for the event closes on 15 November, 2018.
The event is promoted by Work and Play Events.