Ondo Auto Rally Set To Hold On 3rd – 5th April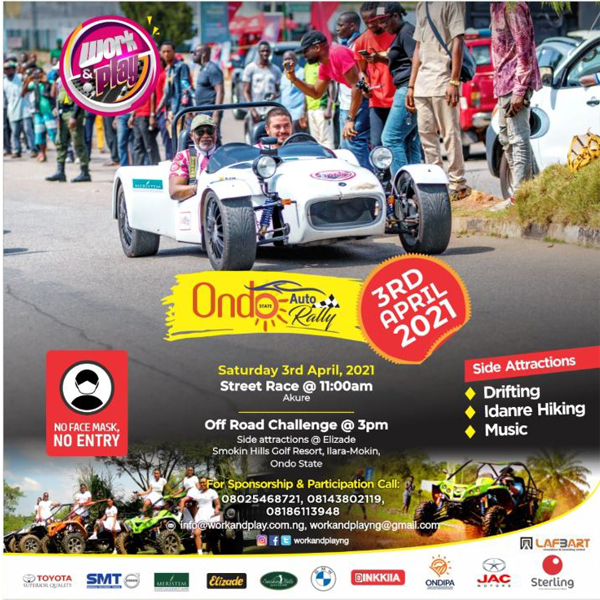 It is the countdown to the  much anticipated Ondo Auto Rally, 2021!
The Ondo Auto Rally has become the hallmark of pleasant motoring experiences in the country.
The event leaves car enthusiasts each editions departing with fond memories.
The event is promoted by Work and Play Events. The company has been at the forefront of Nigeria's budding auto-racing sports culture over the past years. They have also created economic opportunities for host communities partners and sponsors.
The 2021 edition of the Ondo Auto Rally promises to be a festival of fun activities, with an anticipated high attendance by car race enthusiasts.
Since the first edition, the event has witnessed a massively growing awareness and interests in Motor. This has thus significantly contributed to the increase in awareness and interests in Motor Sports in Nigeria.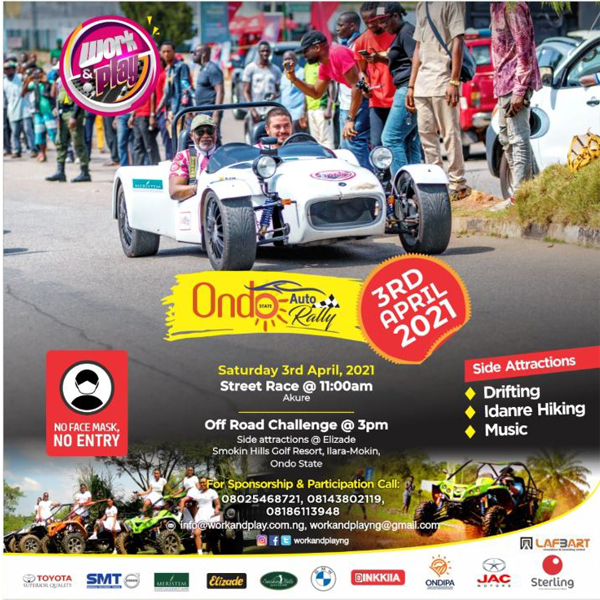 In 2019, the Ondo Auto Rally was announced as the winner of the Motor Sport Event Of The Year award.  The award was presented to the organizers of the auto rally, Work And Play Events, by the Nigerian Auto Journalists Association (NAJA)..
The venue of the the next edition is the usual location, Elizade Smoking Hills Golf Resort, Ilara-Mokin. The event will feature events such as Drifting and off Road Challenge, Idanre Hiking, Golf Kitty , Music Concert by various Artist,etc.
This year's edition will feature bonfire night, cultural troupe, pounded yam evening at the Smoking Hills Golf Resort, Ilara-Mokin,
There will be a strict enforcement of the COVID-19 safety protocols by the organizers during the event.
The event will holding from Friday, 3rd of April to Monday, 5th of April.