Volkswagen ID.7 EV Sedan Debuts Camouflaged Ahead Of CES In Las Vegas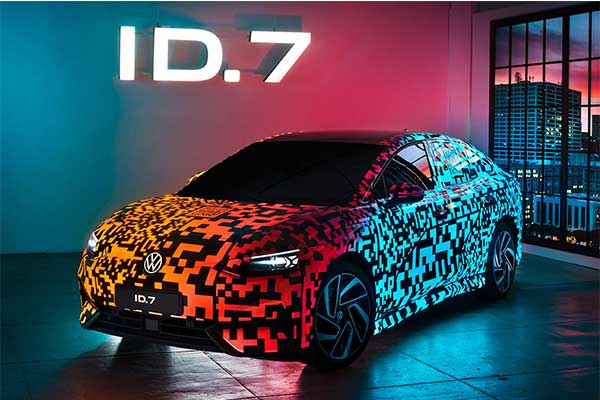 Volkswagen chose the Consumer Electronics Show in Las Vegas to preview its first fully electric sedan – the ID.7. The production version of the ID. Aero concept will launch in the second quarter of 2023. VW covered the exterior of the car with a "smart" camouflage, but they showed the interior and detailed some of the tech features of the upcoming MEB-based model.
Rather than the usual vinyl wrap, the car features an electroluminescent, 40-layer paint job. The car's silhouette is similar to the concept and showcases a car that is about 194 inches long with a very long wheelbase, which should grant it sizeable interior space. It's quite obviously a hatchback along the lines of the Arteon.
"With the new ID.7, we are extending our electric model range into the upper segments," said CEO Thomas Schafer. "The sedan will offer top-class technology and quality."
As part of VW's push to upgrade its interior technology, the ID.7 promises a new 15.0-inch touchscreen, illuminated touch sliders, an augmented reality head-up display, and even digitally controlled air vents that automatically adjust in-car temperatures depending on how hot or cold it is outside. "Hello, Volkswagen" voice controls will also be available in the ID.7 to control basic functions.
Full technical details weren't shared here in Vegas, but VW did say it'll have an estimated 434-mile range on Europe's more generous WLTP test cycle. That should still likely put it in the 300-mile range in the United State, which is a testament to having a more slippery sedan/hatchback shape than the ID.4. VW says its drag co-efficient will be in the .23 or .24 range.
China will be the first market for the ID.7, with sales to start there in the second half of 2023. Sales in North America and Europe will follow shortly after, meaning it will likely arrive in the U.S. as a 2024 model.