Aston Martin Teases DBS 770 Ultimate As Swansong Model To The V12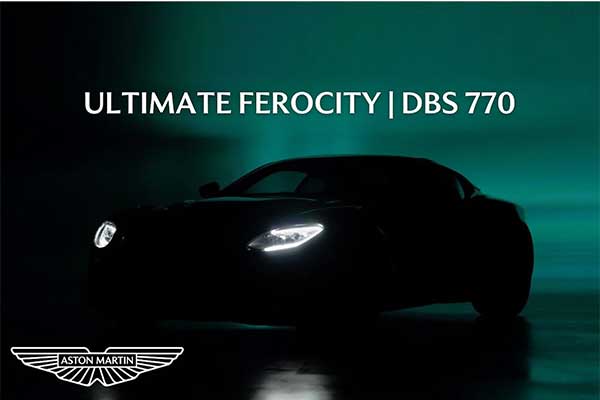 The current Aston Martin DBS has been around since 2018. Since its launch, several versions were introduced to keep the nameplate alive. Aston Martin wants to "surpass them all" in its upcoming version called the DBS 770 Ultimate. The newest version of the grand tourer is said to be the final edition flagship of the nameplate.
Just 499 examples of the front-engine, rear-wheel-drive GT will be built for worldwide sale, each generating a maximum of 759 hp from the same twin-turbo 5.2-liter V-12 that in the stock DBS Superleggera makes 715 hp. The car is due to make its debut in early 2023, and both coupe and Volante convertible versions are planned, Aston Martin has confirmed. It will become the second most powerful production car the firm has yet to build, until the arrival of the 937bhp Aston Martin Valhalla supercar, which will also go into production in 2023.
Visually, the DBS 770 Ultimate appears to be very similar to the DBS Superleggera retaining its sexy silhouette and LED lighting signature. It will however be distinguished by new features like the version-specific alloy wheels, and quite possibly a redesigned body kit with reworked aero components.
Aston Martin's plans for replacing the DBS have not yet been made public, but it's reasonable to assume that this limited edition will be the last of the current generation. Thereafter, it's possible that the V12 may no longer be an option at the Gaydon-based automaker. The V12 Vantage revealed last year was heralded as the "final edition" of that car, which suggests that the 12-cylinder engine in all forms may be in its twilight years.