White Man Aims Bow And Arrow At Protesters Before Crowd Tackles Him And Destroyed His Car (Video)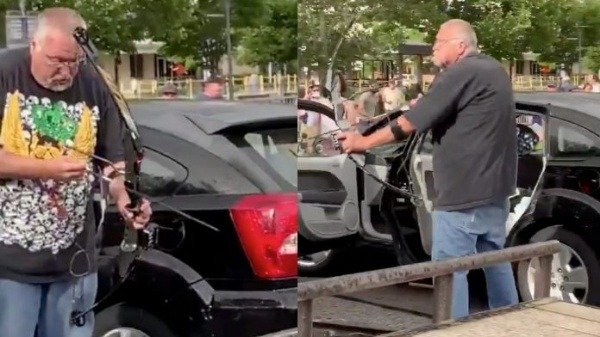 A white man got beat up and had his car destroyed after aiming bow and arrow at protesters demonstrating against George Floyd's custody death.
The bloodied man said his car was "totalled" after "trying to protect" police officers "with his bowl and arrow.
A white man was punished on Saturday for aiming a loaded bow at protesters who were demonstrating against police brutality following the death of African-American man George Floyd in Minnesota last week Monday.
Footage of the incident showed the man yelling at bystanders for damaging his car as he prepared the bow.
The person shooting the video asked:
"You call yourself an American?"
"Yes! I'm American! All lives matter!", the man yells back, pulling his bow up to aim.
The person filming then yelled:
"Don't you dare.", after the man turned away from the camera to face protesters.
Along the line, someone could be seen falling to the ground in front of the armed man, before protesters attacked him.
The protesters eventually flipped his vehicle before setting it on fire.
According to reports, the man, who later identified himself as Brandon McCormick, claimed he pulled over to "help" police officers.
The man told reporter that his car was set on fire after he yelled, "All Lives Matter".
"Well, of course I got beat up when I yelled, 'All Lives Matter', then I pulled out weapons, then I got beat up some more.
"Then the cops grabbed me and my car got towed … and my phone, everything, I lost everything coming down here trying to protect them with what weapons I had."
He added:
"And I backed up the law enforcement, you know, I know some cops are bad, I know some people, all races are bad."
When asked about the state of his car, the man added:
"Well, I seen it on fire, so it's totalled. And everything I had in it."
The bloodied man was later arrested by the police. In a tweet, the Salt Lake City Police Department said it intended to lay charges against the white man.
Also See: Buy and sell cars faster on Carmart NG