Watch: 10 Drone Attacks Causes Massive Fire At Two Saudi Aramco Oil Facilities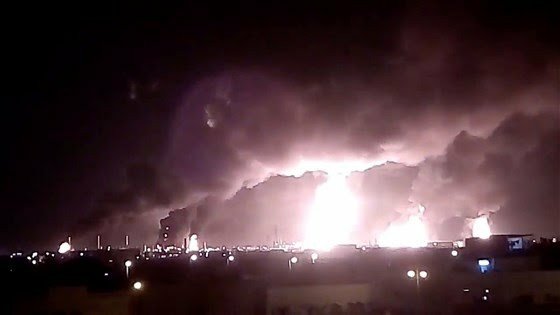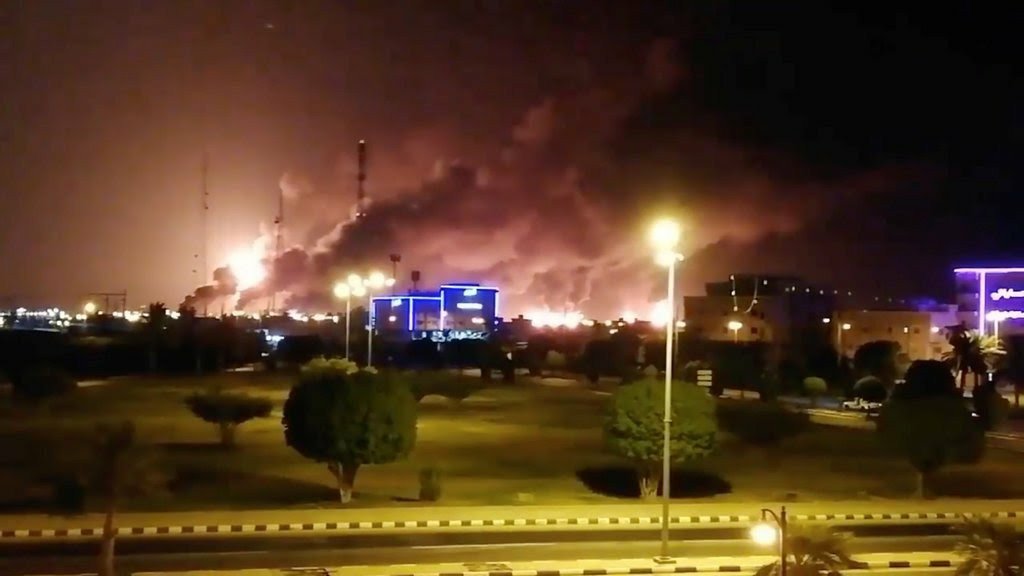 Drones launched by Yemen's Houthi rebels have caused fires at two major facilities run by Saudi Arabia's state-owned oil giant, Saudi Aramco. The targeted facilities can produce about 8.5 million barrels of crude oil between them.
According to the interior ministry spokesperson, the fires at the facilities in Abqaiq, which is home to the world's largest oil processing plant, and Khurais were under control.
"At 4.00am (01:00 GMT) the industrial security teams of Aramco started dealing with fires at two of its facilities in Abqaiq and Khurais as a result of drones"
Online videos showed flames and smoke rising above the company's facility in Abqaiq and what sounded like machine-gun fire, suggesting security forces tried to bring down some of the drones.
Later on Saturday, Iran-backed Yemen's Houthi militia said the attacks were carried out by 10 drones and promised to widen the range of its attacks on Saudi Arabia, which leads a military coalition battling them in neighbouring Yemen.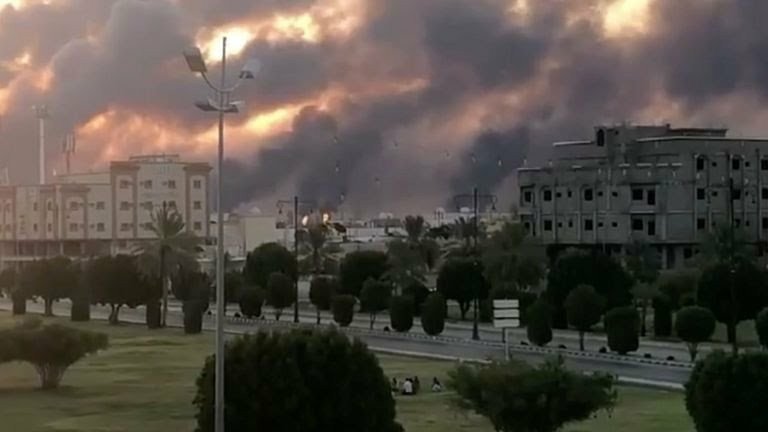 "These attacks are our right, and we warn the Saudis that our targets will keep expanding"
"We have the right to strike back in retaliation to the air strikes and the targeting of our civilians for the last five years."
"The only option for Saudi government is to stop attacking us"
The Saudi-led coalition said it was investigating the drone attacks and would confront terrorist threats to global energy security.
"Investigations are ongoing to determine the parties responsible for planning and executing these terrorist attacks"
It said the Western-backed military alliance would take the necessary measures to "safeguard national assets, international energy security and ensure stability of world economy".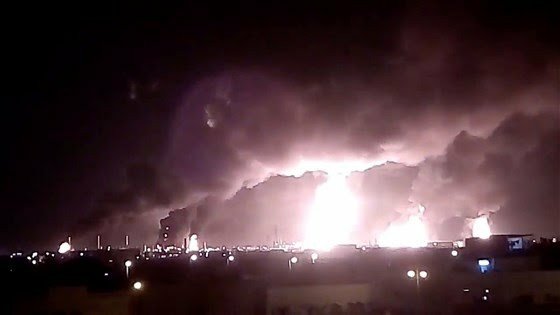 The attacks come as Saudi Arabia, the world's leading crude exporter, steps up preparations for a much-anticipated initial public offering of Saudi Aramco.
Saudi Aramco, the state-owned oil giant, described its Abqaiq oil processing facility in Buqyaq as "the largest crude oil stabilisation plant in the world".
The facility processes sour crude oil into sweet crude, then later transports it to transshipment points on the Gulf and the Red Sea. Estimates suggest it can process up to seven million barrels of crude oil a day, or about 7 percent of global oil supply.
By comparison, the upcoming Dangote refinery is expected to produce about 650,000 barrels of oil per day. It will also rake in $26.2 billion for Nigeria annually, according to Aliko Dangote.