The Price Of This Stolen £1m Solid Gold Toilet Could Get You Seventy-nine Toyota Camrys
Thieves have stolen a newly installed £1million (₦452 million) solid gold toilet at Bleinheim Palace just two days after the 18-carat masterpiece went on display at Winston Churchill's birthplace in Woodstock, Oxon.
Police spokesperson, who confirmed a 66-year-old man has been arrested in connection with the incident, said:
"The piece of art that has been stolen is a high value toilet made out of gold that was on display at the palace.
"Due to the toilet being plumbed in to the building, this has caused significant damage and flooding.
"We believe a group offenders used at least two vehicles during the offence
"The artwork has not been recovered at this time but we are conducting a thorough investigation to find it and bring those responsible to justice.
"I am appealing to anyone who saw or heard anything suspicious in the area to contact police"
The Duke of Marlborough's half-brother and founder of the Blenheim Art Foundation Edward Spencer-Churchill told the Times:
"Despite being born with a silver spoon in my mouth I have never had a s*** on a golden toilet, so I look forward to it."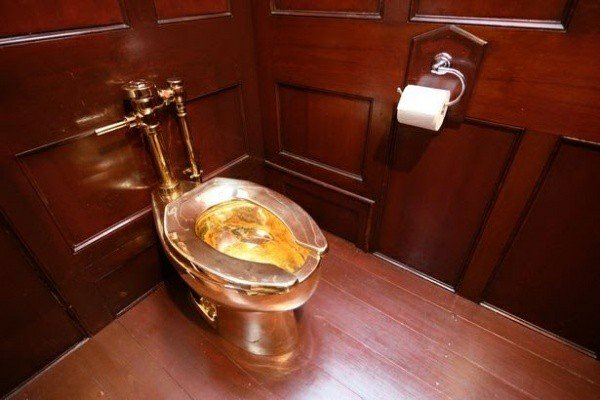 The fully-functioning 18-carat toilet was created by Italian artist Maurizio Cattelan. It was once offered to United States President Donald Trump who turned it down.
But what can you buy with the price tag of the stolen 18-carat gold toilet? With the £1m ($1.25m or ₦452 million), you could buy….
Two $450k Rolls-Royce Phantom plus one $325k Cullinan, or two $325k Cullinan plus three $165k Bentley Bentayga SUV
You could even open a dealership and stock it with 79 brand new Toyota Camrys — all prices before destination and clearing.
What Other Things Would You Love Buy With The £1 million Price Tag?