4 Ways Uber And Taxify Are Cheating Nigerians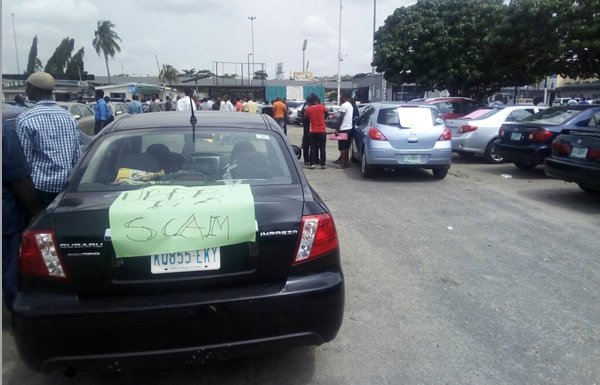 Uber and Taxify are currently the top cab hailing apps in Nigeria. They are extreme rivals, however, their services are rendered to the similar customers using the same cars and drivers in most cases. The service is far better than where we are coming from but we can't stop there. It is also important to note that these organisations cheat us in one way or the other and I will mention 4 ways that comes to mind.
They take longer routes
This particular issue is so sad. All their navigation systems and some drivers have been programmed to take you through longer routes in order to get the maximum bucks out of every trip. Few weeks ago, I booked Taxify from Ikeja Computer Village to Ijora. Before I knew it, the driver and his navigation entered Awolowo Road to go take 3rd Mainland Bridge through the old toll gate area.
Then I asked the driver to turn and take Ikorodu Road through Maryland which he did. All through the trip, the map kept telling us to make a U-Turn and go through 3rd Mainland even after we got to Anthony on Ikorodu Road, the map kept asking us to re-route. Just Imagine taking 3rd Mainland Bridge from Anthony to Ijora. Too bad! .. If you are thinking there was traffic on Ikorodu Road, no.. there wasn't.
Just this week again someone who was going from Ijesha express to Ilupeju (10 minutes journey) was taken all the way to Ikorodu Road through Stadium (30 minutes journey).. your transport fare will be more than double.
So it is better you to know the best route to your destination.
Uber charges N1,000 request cancellation fee and it became even worse after their drivers became disgruntled with them.. so the drivers started taking advantage of that. They will accept your pick up request with prior knowledge of not coming to pick you up. Then they will cancel your request after 5 minutes with an excuse that they can't come pick you again.
Despite the cancellation being the driver's fault, Uber will deduct the N1,000 from you card immediately or they'll add it to your next trip fare. See trouble o!
Rickety cars
Sometimes you'll be feeling cool that you just requested a cab through your phone expecting a fully air conditioned and stress free ride. Instead, some cars will just arrive with terrible shock absorbers, fuel smell inside the car or AC not working. Has anyone experienced this? Tell us your experience.
You'll get adverts on price discounts flooding your phone but when you are actually booking a trip, everything will be on surge. Do the calculation, they give you 20% discount but surge price is 1.3x. Maintaining the status quo is sometimes better.
See Related Post Okada Riders Gets Their Own Uber For Motorcycles (MAXGo)