Audi Says Goodbye To The R8 With A New Limited GT RWD Coupe Version For 2023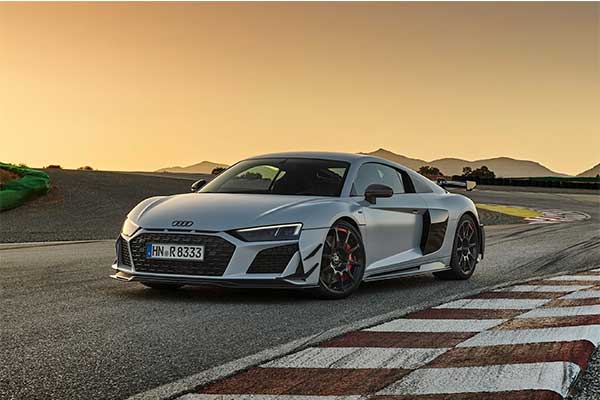 Audi yesterday unveiled the final edition of the R8 coupe in the guise of the GT RWD model which will mark the end of its V10 engine and will come with all the tech goodies and more power. This model will be limited to just 333 units with sales to start before the year runs out.
To distinguish it from the regular R8, the GT RWD  sports a body kit comprising the chin spoiler, flicks, side skirts, diffuser, and rear wing that features gooseneck suspension. All exterior logos are finished in black, including the 'R8 GT' emblem at the back
The familiar 5.2-litre V-10 has been tuned to deliver 611 hp and 417 lb-ft of torque in this latest application. Those are the same figures the engine delivers in the all-wheel-drive R8 and makes the R8 V10 GT RWD the most powerful rear-wheel-drive production car to wear the Audi badge. Performance figures include 0-62 mph acceleration in 3.4 seconds, 0-124 mph acceleration in 10.1 seconds and a top speed of 199 mph.
Audi is leaning into the fashionable "Drift Mode" options that are becoming popular amongst enthusiast cars, offering "precise and controlled oversteering" via a button on the steering wheel. This activates the new Torque Rear Drive mode. It gives the driver a choice of seven different pre-determined profiles to aid in getting the rear to step out sideways. Further enhancing the car's agility is a new carbon fibre reinforced plastic anti-roll bar that is paired with two coupling rod connections made of red anodized aluminium, and if you want to be more hardcore, the adjustable coil-over suspension is available.
Inside, it reflects the first-generation R8 GT with a black and red interior, including red seatbelts. Floor mats and seats declare the GT's special status, and owners can figure out their place in the order line with a sequential special edition build number embedded in the carbon-fibre centre console.