Beware Of FERCSARA "Official Robbers" On Lagos – Ibadan Expressway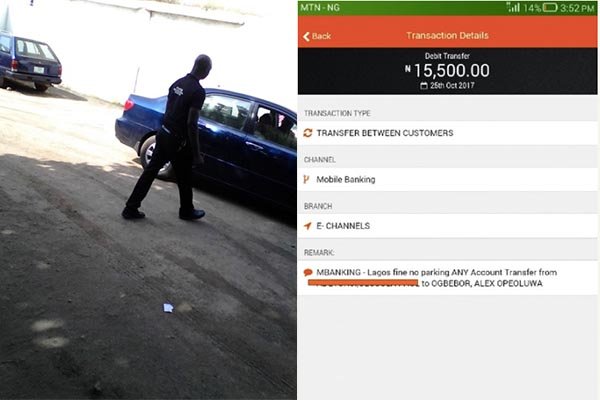 FERCSARA
I was driving to Lagos from Ibadan yesterday.Getting very close to Prayer City I stopped to check a strange sound from my front tyres. After tightening the screws, just before entering into my car…some men numbering around 6 in an unofficial car with no police escort, accosted me saying this is a no parking zone. I was calm and tried to explain myself..but one of them entered into my car that I need to drive to their office so they could take "inventory" and warn me. I suspected foul play but on looking at the attire of one of them I saw Federal Roads Committee…inscribed on his shirt.
Following the direction of the person now in my car…i was stylishly forced to drive to a place that happens to be the compound of GLORYGATE EVENTS CENTER,Km 35 Lagos-Ibadan Express,Close to Mosebolatan Bus stop,Ibafo…which as I realized later is not their office.
In that compound I met about 5 other cars…and money was being siphoned from them as Fines for "Illegal Parking".
The fines ranges from 15,000 to 45,000Naira. The dubious aspect is that the money is to be TRANSFERRED TO AN INDIVIDUAL ACCOUNT (The person collecting the money in his account is Ogbebor, Act Number 011502…GTB)
The people wearing special Tshirt…comes in once in a while and handover their victim to their wild looking…heavily bearded partners.
When I transferred my own "FINE"(N15,500)..in order to quickly escape from them…the person attending to me made a fake phone call to confirm the transfer (as if the alert is to be received by someone far away).I knew this was a fake phone call after I have verified the identity of the account owner who is actually among the fierce looking individuals in the compound!
I am sure that these set of OFFICIALLY assisted criminals are raking in millions of naira on daily basis.If truly any "fine" is to be paid,it should go to a "government/agency bank account"
I want the general public to be careful not to fall into such hands and also want the Law enforcement agencies to move swiftly to arrest the situation.
When they saw that I didnt argue much them..they spoke covetly with each other and wrote a fake receipt(no duplicate..judging from the backside of the receipt) for me…and at a time they became jittery and searched my phone…suspecting that I took a video shot of the place.(I didnt video them,but I took a picture of a scene..which luckily for me they did not see on the phone!)
I was able to trace the picture and phone number of the guy whose account number was been used for the robbery.
This is the fake receipt issued after the money was transferred to Ogbebor Alex GTB account! Attached is also a document they mistakenly forgot in my car…a photocopied A4 paper of fines of another person..who must have paid 25,000naira
See Related Post Accident As Train Hits A Toyota Camry In Mushin, Lagos (Photos)