BMW 7 Series Based Alpina B7 Discontinued After 6 Generations And Will Not be Replaced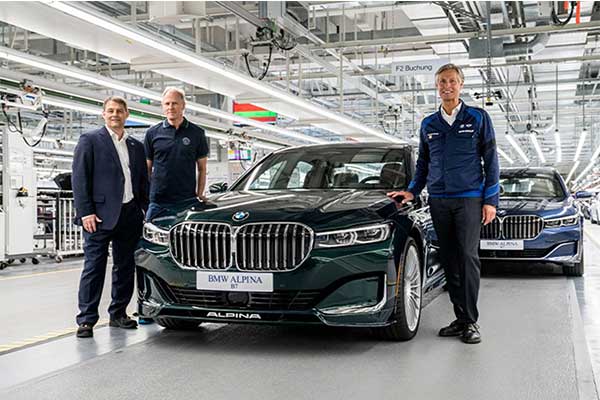 BMW 7-Series enters its seventh generation with the redesigned 2023 model unveiled in April, but an Alpina version won't return this time around, the semi-official BMW tuner has confirmed.
No reason was given, but it could be due to BMW, which in March acquired the Alpina brand, preparing to launch its own high-performance 7-Series based on the latest generation of the flagship sedan. These include the M760e xDrive plug-in hybrid with 563 hp and the i7 M70 xDrive electric vehicle with more than 600 hp on tap.
In an official post on Facebook, Alpina Belgium announces the final B7 has been assembled, and "the era of the BMW Alpina B7 is coming to an end in the Alpina automobile manufactory." The German automaker doesn't say it directly, but from the announcement, we get the perception that no replacement is currently being developed. Alpina even takes a retrospective look at the high-end sedan by saying it now looks "back at the fascinating automobiles which came about in Buchloe on the basis of the BMW 7 Series"
The final iteration of the B7 was unveiled in early 2019 and equipped with a 4.4-litre twin-turbocharged V8 pumping out 600 hp and 590 lb-ft (800 Nm) of torque. This almighty powertrain allows it to hit 60 mph (96 km/h) in just 3.5 seconds and continue through to a monumental 205 mph (330 km/h) top speed. Alpina did more than update the turbocharged V8 engine for the B7.
The most recent model was also equipped with an upgraded stainless steel sports exhaust system, a revised braking system with 4-piston fixed callipers paired with 15.55-inch discs at the front and 15.67-inch discs at the rear. It is also fitted with 20-inch wheels wrapped in Michelin tires at all four corners, although 21-inch wheels are also available.