BMW Refreshes 3-Series For 2023 With A New Infotainment System And Exterior Tweaks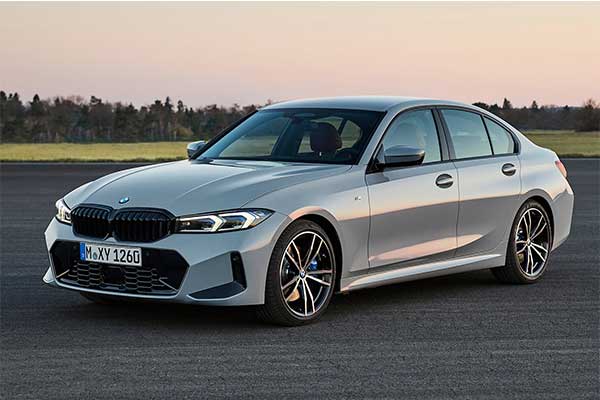 BMW has gone for a mild refresh to the 3-series sports sedan (and touring). The revamped car benefits from a handful of tweaks to the exterior, an expansion of the colour palette, and new wheel designs.
The first thing noticeable—okay, perhaps only to eagle-eyed BMW fans—about the new 3 design is the headlights. On the outgoing model, BMW was inspired by the small notch below the E46 generation of 3 Series' headlights and brought it back as a small design element in the headlight of the new car. That's gone now, with a clean edge at the bottom of the 2023 model year's slimmer headlight units, and a smooth bumper without the styling crease. The kidney grille is a bit wider, and the overall result is a cleaner face versus the outgoing model.
Drivetrain options and specs remain the same as last year's cars, with the 2.0-litre turbo four-cylinder found in the 330i and 330e remaining. For the M340i a 3.0-litre turbo inline-six mild-hybrid is present and correct. xDrive all-wheel-drive remains an option across the range, with an eight-speed transmission as standard.
Inside, the 3 Series now benefits from BMW Operating System 8 (iDrive 8) with its 12.3-inch digital driver cluster and 14.9-inch touchscreen infotainment display both housed in one large, curved unit. The glass cockpit required changes to the central dash, where you'll find slimmer vents and relocated climate control functions. Moving to the centre console, the shift selector for the eight-speed automatic transmission is now replaced with a much smaller toggle lever.
The current 3-Series features automatic emergency braking as standard equipment, and we expect that to continue. Advanced features are walled into (likely expensive) option packages. Examples include active lane control, blind-spot monitors, and adaptive cruise control that allows for limited hands-free driving under certain conditions.