Brabus 850 Maybach Sedan Is A V12 Beast On Wheels And Its Super Fast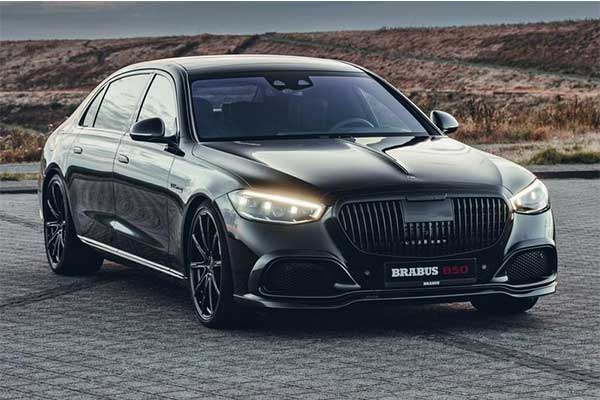 The Mercedes-Maybach is normally a striking appearance, especially if the optional two-tone paint is chosen. If you prefer to stay a little more under the radar – if that is even possible with a Maybach – and if you want to disappear from the picture faster, Brabus may have the perfect answer for you.
Anyone who likes to show that business is going well has a great car in the Mercedes-Maybach S-class. Normally there is already a mountain of chromed parts and with an optional two-tone color scheme on it, the exhibitionistic party is of course complete. Yet nowadays it is apparently also very popular in wealthier circles to go for a car that is completely stripped of color. This is evident from the many 'black packs' that can even be ticked by brands such as Bentley, Rolls-Royce, and Mercedes-Maybach. Brabus now gives the Mercedes-Maybach S680 such a treatment, but of course, it does not stop there.
In addition to painting the various usually chromed accents black, Brabus has also provided the Maybach with various carbon accents. The most eye-catching is of course the diffuser and at the front, we see carbon fiber parts in and under the bumper. The Brabus 850, as the dark S680 is now called, stands on jet black 22-inch light metal and is equipped with Brabus logos in black all around. It is also a dark affair in the interior and we see carbon fiber in various places.
The carbon is not necessarily necessary for better performance, because the 6.3 V12 takes care of that. It has been fitted with new forged pistons and two new turbos developed by Brabus. As the name Brabus 850 indicates, these adjustments, together with a new exhaust system, are good for power of no less than 850 hp. The maximum torque is completely insane: 1,400 Nm. For comparison; the regular Mercedes-Maybach S680 comes to 612 hp and 900 Nm. Despite that power spurt, the 0 to 100 km/h sprint is only 0.4 seconds faster in the Brabus 850, namely in 4.1 seconds. At such a sprint time you need huge power steps to be able to shave off a few tenths. The top speed has remained the same, which is electronically set at 250 km / h