Cadillac Takes The Wrap Off Its New CT6 Flagship Sedan For The Chinese Market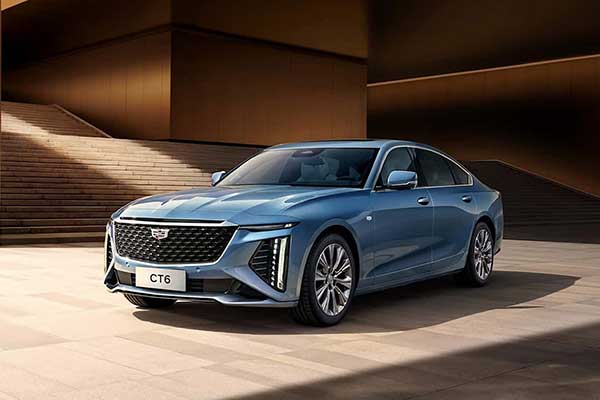 Cadillac has just taken the wraps off its new CT6, which will act as its flagship sedan in China. The CT6 and Chevrolet's Impala were culled from the American lineup in 2019, but in China, Cadillac's badge still holds considerable sway and big luxurious sedans are highly popular.
The exterior takes after the stunning Escala concept from the 2016 Pebble Beach Concours d'Elegance. Proportions have not been significantly modified as the second-gen model is 5223 millimeters (205.6 inches) long, 1890 mm (74.4 in) wide, and 1473 mm (58 in) tall. The full-size premium sedan is touted as having a segment-leading wheelbase of 3109 mm (122.4 in), which perfectly matches that of its predecessor. That tells us the 2024 CT6 isn't an all-new product but rather an evolution of first-generation model by utilizing an updated Omega platform.
While the first-generation model was offered with a naturally aspirated V6, twin-turbo V6, twin-turbo V8, turbo four, and a plug-in hybrid turbo four powertrains, there's only one engine in the new CT6. It's a turbocharged 2.0-liter four-cylinder engine producing 174kW of power (@5000rpm) and 350Nm of torque (@1500-4000rpm), mated with a 10-speed automatic transmission.
The cabin of the new CT6 boasts several noteworthy features. One of its standout elements is the standard 33-inch curved display, which offers an impressive 9K resolution and showcases a wide range of 1 billion colors. This advanced display is powered by the 8155 Qualcomm chip and supports 5G connectivity to ensure seamless access to a variety of features and services. The luxurious ambiance inside the cabin draws inspiration from yachts, further accentuated by Fina Nappa leather upholstery. The high-quality materials, including cork wood veneer, contribute to the refined aesthetics of the interior.
The new CT6 goes on sale later this year in China together with the aforementioned GT4 and the revised XT4.