11 Car Race And Car Shows In Nigeria For 2017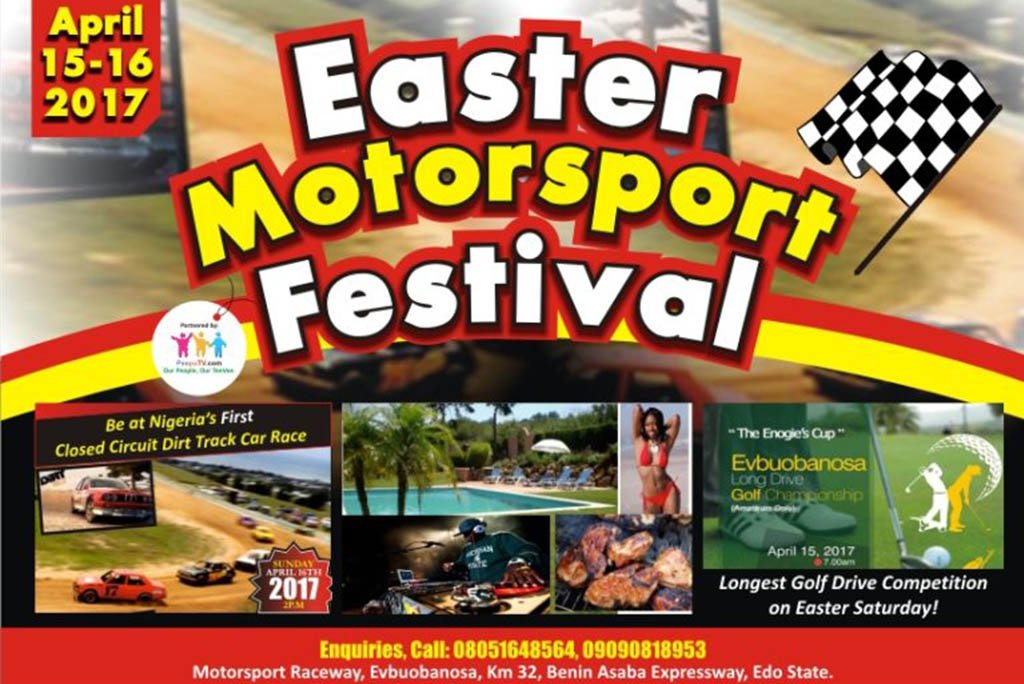 2016 was a busy year for the average Nigerian car lover as there were a lot of car shows to attend. However, with this fully blown recession in 2017, I'm not very confident that we'll have as much car shows but hey! This is still February, a lot could happen in 10 Months. Notwithstanding, here are the Nigerian car and bike shows we expect to be organized in 2017.
A BMW E30 dirt track racing competition which began on Saturday 4th February 2017 at the Motorsport Raceway, Evbuobanosa,  Edo state. The organizers of this race have everyone talking with personal preparations in high gear. The reason is not farfetched as it comes with an annual prize money of N2m cash for the fastest race car driver who will be crowned the Ultimate Nigerian Race Driver.
The ultimate Nigerian exhibition of unique classic cars, super cars, muscle cars and motorbikes from private car collectors and owners in Nigeria. Their previous shows were maxed out and we expect another one in the 2nd quarter of 2017 at the Main Bowl of Tafawa Balewa Square, Lagos.
The Lagos Motor Fair brings together major local and international manufacturers, Brand Representatives as well as policy makers in the road transport and automotive business in Nigeria and West Africa. The Auto Fair will have its 12th edition in 2017. Put together by BKG Exhibitions Limited. The Lagos International Motor Show is a 7 day event to be held from 24th April to 29th April 2017 at the Federal Palace Hotel in Lagos.
4. Abuja International Motor Fair
The Abuja International Motor Fair had its 18th edition last year and the 19th edition will be in 2017, Holding the record of being the most consistent auto show in Nigeria. It serves as a platform to position participants and other stakeholders to access and harness the abundant potentials of the growing and viable Nigerian Automotive sector. The 2016 edition was held from 25th  October – 1st November 2016. We are yet to get the date for the 2017 edition but we reckon it will hold sometime around the 4th week of October.
5. RCMC Bikers Converge
An event put together by Rock City Motorcycle Club (RCMC) Abeokuta to promote culture and tourism. The 2nd edition held in 2016  and it was a blast as more than 200 bikers from Nigeria and beyond witnessed the 3-day event. This event is also characterized by various activities aimed at raising funds for charity. Planning is already in high gear for the 3rd edition which will take place from 28th July to July 30th 2017.
With 7 editions already in the history books, We expect Eleko Motor Race to continue to push the limits of Nigerian Off Road Racing in the commercial city of Lagos and beyond in 2017. We are expecting the first 2017 edition sometime around April.
7. Nigerian Superbike Road Race (The BT)
As the name implies, this is a bike racing event which holds yearly in Edo state. It is described by the organizers- Motorcycle Sports Club of Nigeria (MSCN) as Nigeria's premier motorcycling sports event. The show started in 2012 as motocross races at the motocross race circuit located in Evboubanosa village along Benin Asaba Expressway, Edo State and with the support of the Edo State Government, it translated into the first ever Edo Superbike Road Race in Nigeria in 2014.  We expect them to continue in 2017.
This show dubbed "for the love of cars" was held in February 2016 and it was by far one of the most amazing and engaging car shows of the year 2016; Carefully planned with the most expensive cars in attendance. We also had wine tasting bike performances and mock drag racing towards the end of the show. However it is unsure if there will be a 2017 edition. We sure hope there is.
9. Rimz and Beatz Car and Bike show
This show, organized as a yearly event in Abuja by "Rimz and Beatz" in collaboration with TRACE Urban TV is a fusion of cars, bikes and music. It started more than five years ago and has since become a show worth looking forward to. It includes music performances by artistes, exhibition of well customized cars and bikes by crews such as Arewa Customz and Q Customs. It also includes stunts, burnouts and drifting competitions by motorsport crews/clubs such as Corsa Motorsports, A41Motorcycle Club, and Darkknight Motorsports. The previous editions were held every Easter but as far as we know, the organizers are yet to release a date for 2017.
10. Drift League
A drift league championed by Darkknight Motorsports to hold in various cities in the country including but not limited to the commercial city of Lagos, Abuja and Kano. It will begin with high impact training of drivers planning to participate in the league in 2017 with the league kicking off fully in 2018.
11. The car show that will catch us by surprise and blow our minds.
Credit: Motoring Nigeria