Check Out This VW Beetle Pickup/Camper Van Mash-Up (Photos)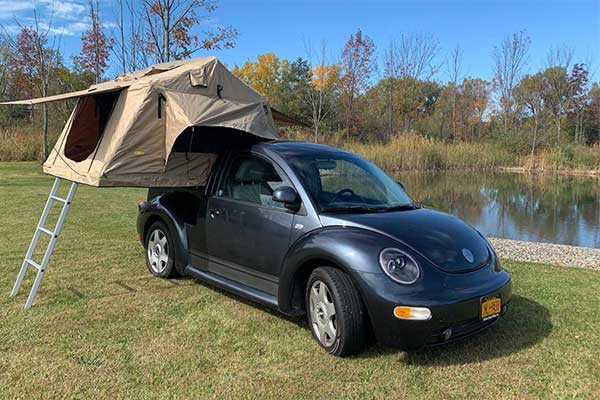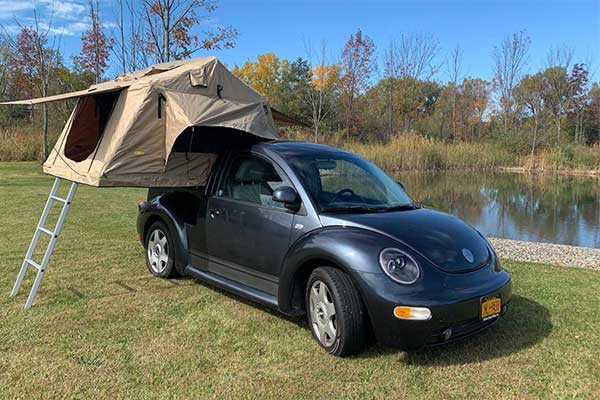 When you think of the VW Beetle, the 1st thing that comes to mind is an iconic vehicle that is cute and curvy. But when you think about a Beetle pickup/camper van mix you will be like"what the heck is that?". It actually looks great if you put the pickup into consideration and the camper on it is on another level. let's take a look at this pickup/camper mashup, shall we?
Modified by Modern Classic Rides, the pickup/camper van started life as the year 2000 VW Beetle 1.8-litre turbo 20v. That aside the man in charge of Modern Classic Rides Steve Goodfellow fell in love with the idea of creating a Beetle pickup. But along the line, he then decided to add a portable camper in it in the form of a raised tent. The whole package is compact and a perfect alternative for those who don't want a massive motorhome sitting in their garage.
The tent support structure was made with square aluminium stock and can be set up within five minutes. It can be folded away for storage or while in transit. The raised tent is big enough for two people to sleep in (or three if you have a small kid). From the photos provided, we can see how neatly it is when packed up. There's also a 12V power outlet and a separate USB charger, plus an LED light strip for reading at night. The electricals are connected to the marine grade outlets on the bed wall.